Romney Outlines His Background, Why Obama Has Failed And Why He Can Do Better During RNC Speech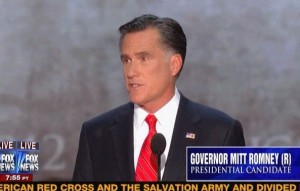 Mitt Romney took the stage at the Republican National Convention on Thursday night to formally accept his party's nomination for the presidency. He defined his background, why he believes President Barack Obama has failed and his vision for the future of the United States under a Romney administration.
Four years ago, I know that many Americans felt a fresh excitement about the possibilities of a new president. That president was not the choice of our party but Americans always come together after elections. We are a good and generous people who are united by so much more than divides us.
"Today, four years from the excitement of that last election, for the first time, the majority of Americans now doubt that their children will have a better future," said Romney.
Romney outlined how many Americans were working harder for less. He said that Americans knew that things were not right as gas prices rose and home values fell over the course of the last three years and a half years.
I wish President Obama had succeeded because I want America to succeed. But his promises gave way to disappointment and division. This isn't something we have to accept. Now is the moment when we can do something. With your help we will do something.
"How many days have you woken up feeling that something really special was happening in America," Romney asked. "Many of you felt that way on election day four years ago. Hope and change had a powerful appeal. But tonight, I'd ask a simple question. If you felt that excitement when you voted for Obama, shouldn't you feel that way now when he's President Obama?
"You know there's something wrong with the kind of job he's done as president when the best feeling you had, was the day you voted for him," Romney said.
Romney moved on to listing successful businesses he and his partners invested in while he led the private equity firm Bain Capital. He challenged the Obama campaign for attacking his tenure at Bain and those success stories. "Is it any wonder that someone who attacks success has led the worst economic recovery since the great depression," Romney asked.
"Every president since the great depression who came before the American people asking for a second term could look back at the last four years and say with satisfaction, 'You're better off than you were four years ago,'" said Romney. "Except Jimmy Carter. And except this president."
"American have been patient. Americans have supported this president in good faith. But, today the time has come to turn the page," said Romney.
"As President, I have a plan to create 12 million new jobs," said Romney. He outlined his five point plan, which included energy production, deficit reduction and education reform, to the applause of the convention attendees.
"President Obama promised to slow the rise of the oceans and to heal the planet," Romney said to laughs. "My promise is to help you and your family."
If I am elected President of these United States, I will work with all my energy and soul to restore that America, to lift our eyes to a better future. That future is our destiny. That future is out there. It is waiting for us. Our children deserve it, our nation depends upon it, the peace and freedom of the world require it. And with your help we will deliver it. Let us begin that future together tonight.
Watch part 1 Mitt Romney's address below via Fox News Channel:
Watch part 2 Mitt Romney's address below via Fox News Channel:
> >Follow Noah Rothman (@Noah_C_Rothman) on Twitter
Have a tip we should know? tips@mediaite.com