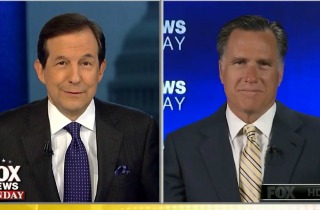 On Sunday, former Massachusetts Gov. Mitt Romney joined Chris Wallace on Fox News Sunday for a wide-ranging interview about a number of political issues that dominated the landscape following the close of the 2012 election cycle. Romney dug into the Affordable Care Act's roll-out, the contraception mandate which he signed into law in Massachusetts, and the Winter Olympics in Russia.

Asked what "bothers" him the most about the ACA roll-out, Romney said that the onerous coverage requirements frustrated him the most.
"it's not just that the president tells people that they have to buy health insurance," Romney said, "it's that the tells them what health insurance they have to buy."
Romney asserted that he vetoed provisions in his state's universal health care law which mandated universal coverage requirements. "This is a the heart of the president's deception and dishonesty with regards to Obamacare," the governor continued, "and that is he told people you can keep the coverage you have if you like it."
Romney said that he wished that he could "turn back the clock" and attempt to run the 2012 campaign all over again, but that was outside his control.
RELATED: PolitiFact Actually Fact-Checks Whether or Not Obamacare Will Lead to… Beheadings
Wallace asked Romney for his thoughts on the contraception coverage mandate challenges pending before the Supreme Court. He noted that the Massachusetts model provided no exemption for that kind of coverage for religious employers.
"This was not an issue in our state," Romney said. "The Catholic Church didn't come to us and say, 'Look, we've got a problem here with the type of legislation in place.'"
"But, frankly Chris, whatever mistakes may have been made in Massachusetts, those are things that could be dealt with at the state level," Romney insisted.
Given his experience managing the 2002 Winter Olympics in Salt Lake City, Wallace asked Romney what his concerns were ahead of the 2014 Winter Olympics in Sochi, Russia, given the number of terrorist incidents leading up to those games.
Romney said that there is always a concern about terrorist violence ahead of an Olympic event. "I do believe that the Russians will do everything in their power to protect the spectators and the athletes," Romney said, while noting that Russia has to deal with a "special threat."
"It's very, very frightening to have any kind of Olympic event on your national soil," Romney asserted. The former governor added that intelligence operations are the best way to protect the games from terror attacks.
Wallace asked if Russia's turn towards autocracy is a concern and could "undercut what the Olympics are supposed to be all about." Romney agreed, and said that the 1936 Olympics in Nazi Germany did have that effect on the games themselves.
"Russia has not been a particularly collaborative player on the world stage," Romney said. He cited Moscow's support for Syria's Bashar al-Assad, Iran, and NSA leaker Edward Snowden as examples.
"They do strain the view of people like myself as to their leadership and their characterization of the Olympic spirit," he concluded.
Watch the clip below via Fox:
[Photo via screen grab ]
— —
> >Follow Noah Rothman (@NoahCRothman) on Twitter
Have a tip we should know? tips@mediaite.com