Romney Rules Out Brokered Convention: 'I'm Gonna Support Whoever Our Nominee Is'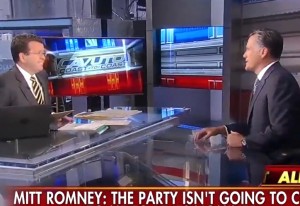 If Trump wins the nomination, Mitt Romney doesn't have a Plan B.
When it comes to its likely nominee, Donald Trump, the Republican party is in its bargaining phase. After all, Thursday's night's rancorous debate had one clear moment of consensus: Each candidate said he would support the eventual nominee. And no matter how caustic the feud becomes between Trump and the GOP establishment — embodied currently by its 2012 nominee, Romney — few Republicans are willing to go on the record to say they will challenge Trump should he clinch the nomination.
So it was Friday afternoon when Neil Cavuto aired a pre-taped interview with Romney, probing the former Massachusetts governor to see if all this anti-Trump posturing wasn't a gambit to eventually swoop into the fracas and run for president once again.
Romney repeatedly denied that there were any such machinations in the works. "Our nominee is gonna be one of the people running for president," Romney said, adding there was a "zero-percent chance" of the party asking him to be the GOP candidate, and furthermore that he had "no interest."
Cavuto was relentless, proposing the possibility of a brokered convention and demanding, "They're not gonna come to you?"
"I'm not going there," Romney said over and over again.
"Are you saying, 'Never'?" Cavuto asked. "Ever? Ever?"
"The nominee of our party is going to be someone who's running for president and I'm not running for president," Romney said, adding that it was a "one in ten million" scenario, about as likely as Barack Obama asking him to step in as president.
"I'm not the nominee," he said. "I'm gonna support whoever our nominee is."
Even if that person is a "phony" and a "fraud," it seems.
Have a tip we should know? tips@mediaite.com