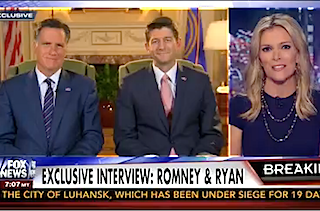 Mitt Romney and Paul Ryan were together again Thursday night for their first joint interview since losing their presidential campaign in 2012 on Fox News' The Kelly File. "Looking at you guys now you look like a presidential team, you look like a president and vice president, but you are not," Megyn Kelly told the pair.
Romney was presumably there to help promote Rep. Ryan's new book, The Way Forward
but spent the majority of the interview criticizing President Barack Obama on foreign policy.
"I believe the president has made extraordinary errors with regards to the Middle East that contribute to the growth of ISIS and the danger that it represents to us and to the world," Romney said. "And one of those things was not putting in place a status of forces agreement that would allow us to have troops in Iraq."
"The president has a foreign policy which has failed once again," he added. "He underestimated the extent of the threat of terror in the world and specifically ISIS. and as a result now we find ourselves facing a very severe and horrific series of scenes on the world stage."
Referencing Hillary Clinton's recent criticism of the president, Romney said, "I think Hillary Clinton tried to explain it by saying there wasn't a foreign policy in effect. And rarely did I agree with what Hillary Clinton had to say, but on that topic I think we agreed."
Later, Kelly tried to catch the pair off guard by asking Ryan, "Who do you think would make a better president, you or Governor Romney?"
Always the good lieutenant, Ryan gave the honors to Romney, but the governor just laughed it off, saying, "He's very generous, but I had my turn. It's his turn now."
Watch the full interview below, via Fox News:
[Photo via screengrab]
— —
>> Follow Matt Wilstein (@TheMattWilstein) on Twitter
Have a tip we should know? tips@mediaite.com