Romney Shuts Down Questioner Who Claimed Teachers Unions Are Popular: 'I Don't Believe It For A Second'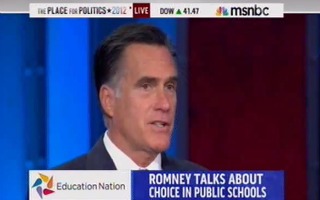 Republican presidential candidate Mitt Romney sat down with NBC News anchor Brian Williams on Tuesday at the NBC Education Nation summit in New York City. During a question and answer session, a parent and elected school board member who cited a poll which he claimed showed that the teachers union in New York City enjoyed broad popularity among parents. "I don't believe it for a second," Romney said, shutting down the premise of the town hall participant's question.

RELATED: Bill O'Reilly To Mitt Romney: 'Snap Out Of It!
During his appearance at the Education Nation event on Tuesday, Romney was asked how he would increase student choice options in schools for the majority and not just the "small minority" of NYC students who attend charter schools.
Romney replied that the state of Florida can serve as a model for the nation which allows students to choose which public schools they wish to attend.
"Fundamentally, choice is one of the ingredients of improving our schools, but the key is really the teachers in the schools we already have," said Romney. He said that rewarding good teachers should be a priority, as well as "sometimes recognizing that the interests of the teachers unions may not be entirely coincident with the interests of the students."
"In New York City, the parents here support the union to protect our kids, three to one, over the mayor and the chancellor," the questioner replied. "That's a recent poll. So, to say that the unions are holding back our kids, as a parent and as parents in polls said the opposite. They believe that, actually, the unions are fighting for our kids and that a lot of the reform has been holding back our kids and against our kids. This is not me, this is coming from a poll of parents. And the Chicago…"
"I don't believe it for a second," Romney said, cutting the questioner off. "I know something about polls and I know you can ask questions to get any answer you want."
"Having looked at schools, I know that the teachers union has a responsibility to look out for the interests of the teachers," Romney continued. "The head of the national teachers union said at one point, 'we don't care about kids, we care about teachers.'"
"Jeb Bush stood up to the teachers unions in Florida, and that made a difference," Romney concluded. "I also believe that Arne Duncan, by standing up for the kids, has made a difference. We simply can't have a setting where the teachers unions are able to contribute tens of millions of dollars to the campaigns of politicians, and then those politicians – when elected – stand across from them at the bargaining table supposedly to represent the interests of the kids. I think it's a mistake."
Watch the clip below via MSNBC:
> >Follow Noah Rothman (@Noah_C_Rothman) on Twitter
Have a tip we should know? tips@mediaite.com