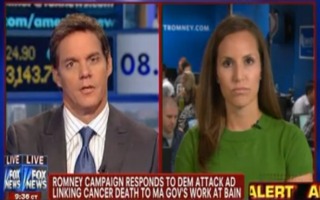 Appearing on Fox News Channel with anchor Bill Hemmer, Mitt Romney campaign spokesperson Andrea Saul attacked a pro-Barack Obama PAC ad which links the GOP presidential candidate to the cancer-related death of a former steelworker's wife. Saul veered off message, however, when she said that the fired steel worker would have had access to health care if he had lived in Massachusetts where, under Romney's plan, health care coverage is extended to the uninsured.

RELATED: CNN Fact Checks Priorities USA Ad Blaming Mitt Romney For Woman's Death
Hemmer asked Saul about the substance of the ad. She said that while she felt the circumstances which former GST Steel employee Joe Spotic faced were sad, the pro-Obama PAC's ad was misleading and inaccurate.
"I think that President Obama's attacks have been so low and so despicable on a personal level that they're backfiring on him," said Saul.
Earlier, Saul said that Spotic and his deceased wife, who passed away from cancer in 2006, would have had access to health care coverage under Mitt Romney's controversial universal health care coverage plan he passed as the governor of the Bay State.
"If people had been in Massachusetts, under Governor Romney's health care plan, they would have had health care," said Saul.
Saul's invocation of Romney's health care plan in Massachusetts sounds an atonal note considering how much time the former governor's campaign has spent attempting to distance himself from his expansion of health care coverage for residents of the Bay State.
Romney never expressly denounced his plan, which is unpopular with the conservative wing of the GOP and dogged him during the Republican presidential primaries, but he has also never touted the benefits associated with his plan. Some have said Romney's health care coverage expansion plan served as a blueprint for President Barack Obama's health care reform law.
Watch the segment below via Fox News Channel:
> >Follow Noah Rothman (@Noah_C_Rothman) on Twitter
Have a tip we should know? tips@mediaite.com