Romney Supporter On Mitt's Response To Santorum Puerto Rico Gaffe: 'A Little On The Snobby Side'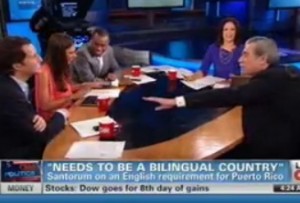 Republican presidential hopeful Rick Santorum threatened his own Santoromentum this week when, while campaigning in Puerto Rico, he remarked that English as the "main language" is a requirement for statehood. Santorum now says he was misquoted, but the Romney campaign was quick to capitalize on the gaffe.
However, on CNN's Starting Point Friday morning, Romney supporter Carlos Gutierrez, called the campaign's statement "A little on the snobby side."
Romney campaign spokeswoman Andrea Saul released a statement yesterday, in response to former Sen. Santorum's remarks, which read (emphasis mine) "Puerto Rico currently recognizes both English and Spanish as the official languages of the commonwealth. Governor Romney believes that English is the language of opportunity and supports efforts to expand English proficiency in Puerto Rico and across America. However, he would not, as a prerequisite for statehood, require that the people of Puerto Rico cease using Spanish."
As Starting Point anchor Soledad O'Brien pointed out, however, that's not what Sen. Santorum was reported to have said, or what he has ever said. That confusion seems to extend to Santorum, as well, because in telling the Associated Press that he was misquoted, he said "I never said only English should be spoken here."
The newspaper in question, El Vocero , didn't say he said that. So they weren't misquoting him? CNN played video clips from that appeared to be from elsewhere in the interview that reinforced the newspaper's quote, in which Santorum says "It's a requirement put on other states, it's a condition for entering the union," adding that "this is a society that will speak English in addition to speaking Spanish."
Former Bush Administration Commerce Secretary Carlos Gutierrez told Soledad O'Brien "I think, first of all, it shows that we don't know as much about Puerto Rico as we should," adding that "Puerto Rico today is probably one of the most bilingual areas in the Caribbean…they don't have this problem, I don't know why we're talking about this in Puerto Rico."
CNN contributor Will Cain (no Santorum fan, he) nevertheless pressed Sec. Gutierrez on the Romney campaign's response. "In the spokesperson's comments though, responding to this whole kerfuffle that he brought upon himself," Cain said, "he said he would not as a prerequisite, this is Romney, require that the people of Puerto Rico cease using Spanish. Senator Santorum had never at any point said they should not be speaking Spanish."
"That's true," Gutierrez responded, "he did not say that. But there is an attitude and impact that you have on children if all of a sudden you have to speak English, he doesn't speak English, I have to speak better, then Spanish becomes something that people don't want to speak."
This is central to understanding why this gaffe is a gaffe at all, but Mr. Gutierrez undercuts his argument by agreeing with Romney that "English is the language of prosperity," which makes Spanish what? How does this differ from Newt Gingrich's extension of that thought?
At the very end of the rather contentious segment, Mr. Gutierrez seems to recognize this dimension, telling Cain "In all fairness, I thought the statement was a little on the snobby side."
Where Gutierrez nails it is in asking why we're talking about this in Puerto Rico. Will Cain, who is a very decent guy, argues that Santorum is only speaking of English proficiency from an abstract, practical standpoint, and I'm sure that's what he believes. Maybe Santorum believes that, too, or it's what he tells himself. But when he's asked if he supports statehood for Puerto Rico, in Puerto Rico, where English proficiency is high and official business is already done in English, why bring it up? Why not just say "I support Puerto Rico's right to self-determination," and be done with it? Who was the audience for that answer?
More on that later. Here's the clip, from CNN's Starting Point:
Have a tip we should know? tips@mediaite.com