Romney Surrogate On Releasing More Taxes: Romney 'Has Gone Above And Beyond What Is Required Of Him'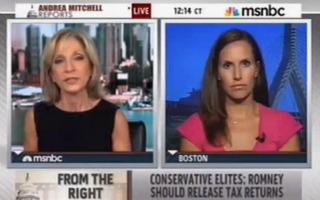 On Wednesday, Mitt Romney campaign spokesperson Andrea Saul appeared on MSNBC with Andrea Mitchell where she addressed recent comments by Romney surrogate John Sununu, nominating convention speakers and whether the GOP campaign would use Obama's admitted use of marijuana and cocaine against him. When asked if the Romney campaign planned to release more tax returns, Saul said that the former Massachusetts governor has released all the tax filings that are required of him and does not feel obliged to release further tax filings.

RELATED: Growing Chorus Of Conservatives And Voters Want Romney To Release Tax Returns
Mitchell asked Saul about growing calls in conservative circles for Romney to release more of his past tax filings and asked if the campaign has any plans to release more returns
"Governor Romney has gone above and beyond what is required of him," replied Saul. "He's voluntarily released over 500 pages of tax return information and he'll release his 2011 returns as soon as they're ready." Saul said that the reason that the Obama campaign is pushing this is to deflect from further scrutiny of his economic record.
Mitchell countered that the calls for Romney to release his tax returns were coming from conservatives, including Texas' Republican Gov. Rick Perry, The Weekly Standard editor Bill Kristol and the National Review's editorial board.
"What Governor Romney has done so far is not the standard," said Mitchell. She noted that Sen. John McCain released more returns and Romney's own father said that any fewer than one dozen returns "could be a fluke."
"At the end of the day, American voters are asking 'where are the jobs,'" Saul replied.
Mitchell pivoted to former New Hampshire governor and Romney surrogate Sununu's recent shot at Obama where he said that the President spent his early years in Hawaii and Indonesia and implied that he was smoking marijuana throughout his youth.
"I think Governor Sununu is his own man," Saul replied.
"Governor Sununu is a surrogate speaking for the campaign," said Mitchell in response.
"He clarified that Obama was not a supporter of the free enterprise system in this country," said Saul. She called Obama's comments from the weekend, where he said to a campaign stump audience that the private sector shares the successes of private sector entrepreneurs, "insulting" and "preposterous."
"Andrea, do you think – does the campaign think – that nothing is off limits including what President Obama has acknowledged was his youthful use of marijuana," asked Mitchell.
Saul replied that they have been largely focused on the economy and did not directly answer whether the Romney campaign believes it is fair to use the President's drug use against him in the campaign.
Finally, Mitchell asked if Saul could confirm that New Jersey Republican Gov. Chris Christie was going to be the keynote speaker at the GOP convention.
"We have not announced any speakers yet," said Saul. "You'll have to stay tuned." She refused to go further into detail about planned convention speakers or the vice presidential selection for Romney.
Watch the segment below via MSNBC:
> >Follow Noah Rothman (@Noah_C_Rothman) on Twitter
Have a tip we should know? tips@mediaite.com