Romney Surrogate To Megyn Kelly: Obama Guilty Of 'Wallowing With Felons' In Chicago Politics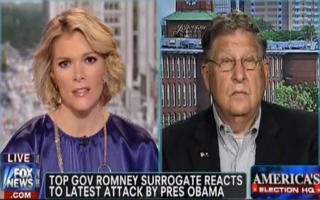 On Fox News Channel's America Live with Megyn Kelly, Mitt Romney campaign surrogate John Sununu appeared to answer charges made by President Barack Obama's campaign that Romney could be guilty of a felony if he misrepresented his occupation on filings submitted to the Securities and Exchange Commission. Sununu said that the President should be careful about introducing the word "felon" into the political discourse having come out of Chicago and with a questionable real estate deal with convicted felon Tony Rezko in his background.

RELATED: 'Kinder, Gentler' John Sununu Tells CNN: You Want To Talk About Felons? Look At Obama's Chicago Crowd
Kelly asked Sununu to respond to the President Obama's deputy campaign manager Stephanie Cutter who accused Romney of potential committing a felony by misrepresenting his tenure at Bain on SEC filings and, on Sunday, refused to apologize for those comments.
It's amazing to me that this President would introduce the word 'felon' into the discourse. This is a president who wallowed in Chicago – in the murky soup of politics slash felons. A region where the politicians quite often end up as felons in jail – they have two governors in jail right now. This is a president who cut a very snarky real estate deal with Tony Rezko who is now in prison for trying to extort some money on a political basis. Why would the President want to give people an opportunity to raise his wallowing with felons in the past by raising that question?
Kelly said that she had just concluded a segment where she looked into the American people's disgust over political debates like these which focus on tarring personal background of candidates for office rather than political policies.
"They both do it," said Kelly.
Sununu took exception to the characterization that Romney too was guilty of attempting to attack President Barack Obama's background.
"It has been done by Governor Romney in response to the attacks that have been made by the Obama administration," said Sununu. "We could be talking about the 24 million unemployed and underemployed. They're the ones that are hurting the most."
"President Obama – in almost four years now – has failed to present a budget that could be passed," said Sununu. He went on to say that the budgets that Obama did submit to Congress were "jokes."
Kelly asked if Romney should take a lesson from Obama's aggressive campaign, noting how Romney's Republican supporters have been critical of the Republican candidate's campaign which has been primarily on the defensive.
"He doesn't have to bring it up, It's guys like me that are a little bit irrational that can bring it up," said Sununu. He accused Obama of funneling taxpayer funds to former campaign bundlers as in the case of the Solyndra loan.
"Let's say all that is true – and you've got all these economic figures that are so bad — Why is this race so close," asked Kelly.
"President Obama, as an incumbent, should be way ahead at this point," said Sununu. He said that Obama's campaign has bought tens of millions in campaign ads in swing states, but the Romney campaign has not responded in kind yet.
When Kelly noted that they invited Cutter on the program but she declined, Sununu said that he hoped Obama himself would join them so he could ask the President about his tenure in Chicago where he was "wallowing with felons."
Watch the segment below via Fox News Channel:
> >Follow Noah Rothman (@Noah_C_Rothman) on Twitter
Have a tip we should know? tips@mediaite.com