Romney Takes On Harry Reid's Allegations: 'I Paid Taxes Every Year – A Lot Of Taxes'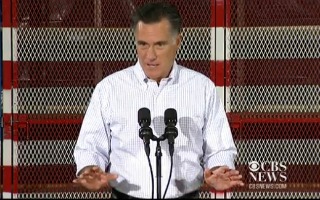 Speaking to reporters in North Las Vegas on Friday, Republican presidential candidate Mitt Romney directly addressed the accusations made by Senate Majority Leader Harry Reid (D-NV) over the week in which he claimed that a source told him that Romney paid nothing in taxes for ten years. "Harry Reid really needs to put up or shut up," Romney began. "So, Harry, who are your sources?"

RELATED: Stark Contrast As Obama And Romney Address July Jobs Report, Rising Unemployment Rate
"By the way, Harry, I understand what you're trying to do," said Romney speaking directly to Reid. "You're trying to deflect the fact that jobs numbers are bad, that Americans are out of work. And you're trying to throw anything up on the screen that will grab attention away from the fact that the polices of the White House haven't worked to put Americans back to work, and the polices of the Senate haven't even got a budget in place for the last three years."
Romney went on to directly address the allegations levied by Reid that he paid no taxes for ten years.
"Let me also say categorically: I have paid taxes every year – and a lot of taxes. A lot of taxes. So, Harry is simply wrong," said Romney.
"Give us the names of the people who put this forward," Romney implored. "I wouldn't be at all surprised to hear the names are people from the White House or the Obama campaign or who knows where they're coming from."
Romney went on to tell the audience that his tax returns from 2010 are on his website along with financial disclosure forms dating back to 2002. He also said that he intends to put his 2011 returns out when they are completed.
Watch Romney address Reid's accusation below via CBS News:
h/t CBS News
> >Follow Noah Rothman (@Noah_C_Rothman) on Twitter
Have a tip we should know? tips@mediaite.com