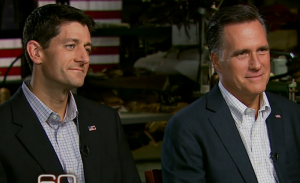 Mitt Romney and his running mate Paul Ryan sat down for their first joint interview on Sunday's 60 Minutes. In the softball interview with Bob Schieffer, the pair didn't reveal much new information, finding it an opportunity to drive home some of the Romney campaign's central messages.
Asked about when he made the final decision about his running mate, Romney said he had kept an open mind with his options and committed to picking Ryan on August 1. Calling Ryan "a real leader," Romney touted his "passion for making a difference."
Chiming in, Ryan noted that the country is in a "very perilous position" — and that he's been focused on tackling the economic and fiscal challenges "before it tackles us."
Exuding confidence in his choice, Romney asserted that Ryan could be president, should the occasion arise, that that was the first and most important criterion used in vetting. He further touted Ryan's experience in Washington, arguing that he's worked in ways that are "not highly partisan or political." Surely a point many will disagree with, given the overall partisan climate in Washington as of late.
Later in the segment, Schieffer got around to a provocative issue plaguing Romney: his time at Bain Capital. Asked whether Romney's been too defensive about it, Ryan said he hasn't. President Barack Obama has "a terrible record" that he can't run on, Ryan said, so he's trying to "run on distractions" and divide people. Romney's business record is "outstanding," he said.
The interview then shifted to Ryan's budget plan, which has been a point of criticism for many Democrats. Clarifying the issue, Romney said, "I have my budget plan and that's the plan we're gonna run on."
With the same degree of conviction, Romney said, under his administration, the highest-income people will continue to pay the largest share of taxes, while the middle class will get cuts.
And speaking of taxes? There's the issue of releasing tax returns, of course. This time, Ryan was the one in question, who said he'll release two years worth of returns — the same as Romney.
Take a look at the interview, via CBS:

Have a tip we should know? tips@mediaite.com