Romney's Final Pitch On SNL: 'Nothing I've Said In Past Should Be Any Indication Of My Positions In Future'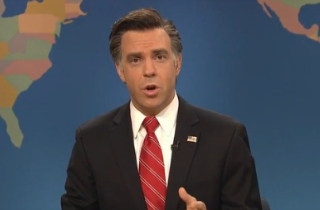 Appearing during the Weekend Update segment of this week's Saturday Night Live, Jason Sudeikis' Mitt Romney made his final pitch to voters — imploring Americans to remember that he still actually exists and that nothing he has said in the past is any indication of how he'd actually govern.
Faux-Romney sent out his well wishes to the victims of Hurricane Sandy, but then noted that "in these trying times, I think there's something very important that a lot of people are forgetting…"
Which is…?
"I'm Mitt Romney, and I'm still running for president."
Sudeikis' Romney then lamented that Sandy's tragic consequences have shifted focus away from what's important: the first presidential debate in which President Obama was "stink-a-rooney."
Anchor Seth Meyers then brought up Romney's previous statement that he would cut funding to the Federal Emergency Management Administration, to which Sudeikis replied:
In my defense, that was a comment I made during a Republican primary debate. That's like judging a person's behavior while they are pledging a fraternity. you can't hold a man — or a woman — to what he — or she — said at a Republican primary debate. I want to make it clear: When I said we should get rid of FEMA, it was sunny.
The candidate went on to explain: "If there's anything people should know about Mitt Romney at this point, it's that nothing I've said in the past should be any indication of my positions in the future. Okay?"
His final pitch: "If I'm elected president, I can promise you one thing: I will promise you everything. One more thing, I would very much like this job, very, very much."
Watch below, via NBC:
— —
>> Follow Andrew Kirell (@AndrewKirell) on Twitter
Have a tip we should know? tips@mediaite.com