Ron Fournier To MSNBC: GOP Rejecting Science On Rape Just Like Rejection Of Global Warming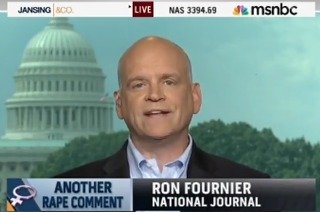 National Journal editorial director Ron Fournier tore into the Republican Party on Thursday in an appearance on MSNBC discussing the House GOP's push to pass a ban on abortions after four months of gestation. Fournier blasted a House GOP representative who opposed exceptions in cases of rape and incest, and said that this behavior was indicative of a party that denies science – both on subjects like rape and on global warming.

During a Wednesday House Judiciary Committee hearing, Rep. Trent Franks (R-AZ) rejected amendments which would have carved out exceptions for rape and incest to a proposed ban on abortions after 20 weeks.
"When you make that exception," Franks said, "there's usually a requirement to report the rape within 48 hours. And in this case that's impossible because this is in the sixth month of gestation."
"I just find it astonishing to hear a phrase repeated that the incidence of pregnancy from rape is low," Replied an offended Rep. Zoe Lofgren (D-CA). "There's no scientific basis for that. And the idea that the Republican men on this committee can tell the women of America that they have to carry to term the product of a rape is outrageous."
RELATED: GOP Rep. Trent Franks Pulls An Akin? 'The Incidence Of Rape Resulting In Pregnancy Are Very Low' (AUDIO)
"Ron, why are Republican men still talking about rape?" asked MSNBC anchor Richard Lui.
"Because they're ignorant," Fournier replied. "Because they are politically stupid."
"And I'll go a step further," he continued. "Why deny science? You have the same problem with global warming."
Fournier said that global warming is a problem. This is a fact with which "99 percent" of scientists agree, "yet the Republican party is denying it."
"When they deny science, when they deny facts, they're going to make themselves irrelevant," Fournier concluded.
Watch the clip below via MSNBC:
> >Follow Noah Rothman (@NoahCRothman) on Twitter
Have a tip we should know? tips@mediaite.com