Ron Paul Backs Home Schooling on MSNBC: We Don't Teach Kids 'Great Presidents' Were 'Warmongers'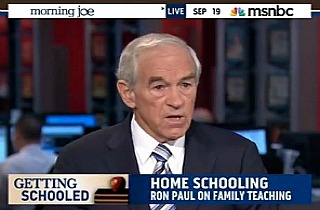 On Thursday, former Rep. Ron Paul (R-TX) joined the panel on MSNBC's Morning Joe to explain some of the proposals in his new book dealing with the reform of the education system. Paul advocated for a great expansion in home schooling and battled some of the panel guests about the curriculum he would prefer to see taught.

"I want people to home school their children," Paul said. "Not everybody. This is designed to pick out the leaders that want to and maybe 20 percent might be interested in doing this."
Paul said that the future leaders of America who emerged from home schooling would have a better understanding of sound monetary policy and be more skeptical of interventionism abroad.
"Today, we have been conditioned in all our schools that it's good have a very robust foreign policy, to be involved in all these countries," Paul said. "We've been taught the Federal Reserve is sacred, except for the last five years, people are questioning the Federal Reserve. We've been taught deficits are good spend is good, but we have to reverse that."
RELATED: Ron Paul Responds to Heated Interview with MSNBC's Alex Wagner: 'I Didn't Like What Happened'
He added that home schooled children would have a "different perspective" on history. He said that one of the great misconceptions of American history was that Woodrow Wilson is presented as a noble figure.
"I would like to show that some of our presidents — the only great president have between warmongers — and people who argued for negotiations might be a better president," Paul said.
Katty Kay told Paul that she thought his proposed expansion of homeschooling would negatively impact women the most and could end up "encouraging women not to take part in the workforce."
Paul said that one of the problems of the current economy is the fact that women are forced to take part in the workforce and it is no longer a voluntary decision. "It is not going to be easy," Paul agreed.
Watch the clip below via MSNBC:
[Photo via screen grab ]
— —
> >Follow Noah Rothman (@NoahCRothman) on Twitter
Have a tip we should know? tips@mediaite.com