Ron Paul Blasts Morning Joe For Putting Words In His Mouth: 'I Don't Know What Your Goal Is'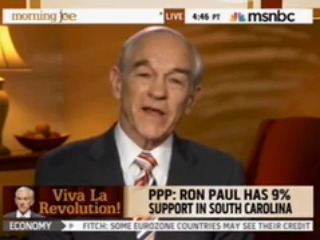 On Wednesday morning, Ron Paul appeared on MSNBC's Morning Joe to discuss his success in New Hampshire, and to look towards what the future may hold for him and his campaign. One thing that was apparent, and which has been consistent throughout coverage of Paul's campaign, is that the man is not interested in playing any games with the media.
When asked at one point during his interview whether the thought the Department of Health and Human Services' Head Start Program is constitutional or merits being cut, Paul called out the Morning Joe crew for, as he saw it, putting his words in his mouth.
Here's what he said about Head Start and other programs he deemed unconstitutional:
It's not Constitutional, but I wouldn't put that on the list [of things to cut]. You know, if we want a perfectly free society, you can't wave a wand and get everything you want. So you have to work our way out of this. You know, Social Security, and these other programs are unconstitutional, but I'm only — I believe I'm the only one that has a program that would protect us so that we can work our way out of it. And hopefully, you know, take care of these programs. But Head Start, you know, some conservatives would say, "yeah, let's cut head start and say we're cutting something." No, we have to cut the big things. Cut five departments, some of this occupation overseas and these senseless wars and try to work our way out and take care of people who have become so dependent. The Federal Reserve is unconstitutional, but my position isn't to close it down in one day. My position is to give it competition and expose it for what it is and audit the Fed and work out of better monetary system. So I think that's a much more reasonable approach than to say —
Paul was interrupted, then, and asked, "But if [he] had [his] way," he'd "eliminate Head Start."
Paul was having none of it.
"Well, you know," he replied, "you're just putting words in my mouth. I don't know what your goal is. I just explained myself very clearly."
Have a look at Paul's reaction, via MSNBC:
Have a tip we should know? tips@mediaite.com