Ron Paul: Condoleezza Rice VP Pick Would Not Win Romney Any 'Ron Paul Supporters'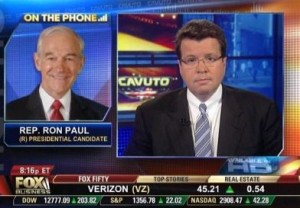 On Fox Business Network tonight, Congressman Ron Paul reacted to the overnight news from the Drudge Report that former Secretary of State Condoleezza Rice is at the top of the list of potential running mates for Mitt Romney. He said that even though she and George W. Bush promised a "humble foreign policy" in 2000, it turned out to be a more interventionist one, and Paul suspected his supporters would not likely support a candidate with those views.
RELATED: Palin: Condoleezza Rice Would Be Good VP Choice For Romney, Despite Being 'Moderately Pro-Choice'
Neil Cavuto first opened by telling Paul that the Republican party would be foolish for not letting him speak at the convention in the fall. Paul found it remarkable that many Republicans keep dismissing his message.
"It's not like I'm preaching socialism, I'm preaching in doing… exactly what Republicans claim they believe in. So it's sort of ironic that – 'Well, we don't like these Ron Paul people because they don't vote to raise the national debt when you need to.'"
Cavuto told Paul that he always found the passion of Paul's supporters, particularly on financial issues, something amazing to behold, and said the Romney campaign would not want to ignore such a vocal group of people. Paul called the Romney campaign "insecure" and worried about the convention going smoothly, prescribing a healthy debate between Republicans as a way to kick off a great convention week.
The discussion then turned to the rumor that Condoleezza Rice is on the VP shortlist for the Romney campaign. Paul said he was very surprised at the idea.
"Even though she talked about, along with Bush in the year 2000, about a humble foreign policy and I thought, 'Wow, we're finally going to get a humble foreign policy and no nation-building,' but it didn't turn out that way and she would fit the bill for [Romney] but it wouldn't help the Ron Paul supporters because they would like a different foreign policy."
He made it clear he isn't dictating anything to his supporters, just making a guess about what his supporters would and would not stand for.
Watch the video below, courtesy of Fox Business Network:
—–
Follow Josh Feldman on Twitter: @feldmaniac
Have a tip we should know? tips@mediaite.com
Josh Feldman - Senior Editor