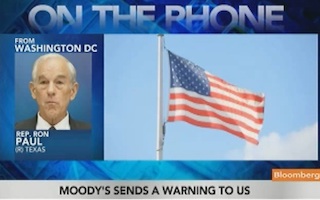 Texas Representative and GOP Presidential hopeful Ron Paul is nothing if not an iconoclast in the Republican party on a number of issues, and during an appearance this morning last month on Bloomberg News, he continued his tendency to strike a contrarian note by openly questioning the material import of the S&P's recent credit downgrade. Paul questioned the overall value of these ratings services, noting that they all missed the market crisis from sub-prime mortgages three years ago before suggesting that the weekend downgrade was "political theater to build up the fear."
Paul seems to suggest that the ratings services have inserted themselves into the political discussion with the recent rating downgrade, but the to which party does this benefit. While the Democrats have been quick to try to identify this as the "Tea Party Downgrade," that seems much more of a defensive position as the downgrade is more harmful to Barack Obama's political standing than anyone else.
In fact, the S&P report did call out politics as part of the reason behind the downgrade, but appeared to single out the GOP's resistance to any measure to raise revenues. From the S&P Research Update:
ompared with previous projections, our revised base case scenario now assumes that the 2001 and 2003 tax cuts, due to expire by the end of 2012, remain in place. We have changed our assumption on this because the majority of Republicans in Congress continue to resist any measure that would raise revenues, a position we believe Congress reinforced by passing the act. Key macroeconomic assumptions in the base case scenario include trend real GDP growth of 3% and consumer price inflation near 2% annually over the decade.
Paul's commentary came in context of talking about Moody's Investors Service's decision to put the U.S.'s Aaa credit rating under review for a downgrade and the outlook for raising the government's $14.3 trillion debt limit. Paul spoke with Erik Schatzker on Bloomberg Television's InsideTrack.
Update: the post has been edited to correctly reflect the date in which this clip originally aired (ugh, Mondays!)
Watch the clip below, courtesy of Bloomberg:
Have a tip we should know? tips@mediaite.com