Rep. Ron Paul Gets Irked By Newsletter Questions, Walks Out Of CNN Interview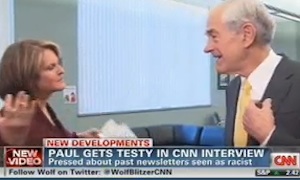 Ron Paul walked out of an interview with CNN's Gloria Borger following a heated exchange over the controversy regarding racist newsletters sent in his name during the 1990s. Borger asked the Congressman if he had ever read the newsletters. "Did you ever object when you read them?"
"Why don't you go back and look at what I said yesterday on CNN and what I've said for 20 something years. 22 years ago? I didn't write them, I disavow them, That's it."
RELATED: Tucker Carlson: GOP Should Ask Themselves Why Does This 70-ish Weird Guy Have All This Support
"But you made money off them," Borger contended.
"I was still practicing medicine," Paul responded. "That's probably why I wasn't a very good publisher, I had to make a living."
"There are reports you made almost a million dollars off of them in 1993." Borger noted.
"No, I'd like to see that money," Paul responded. "I never read that stuff. I was probably aware of it ten years after it was written and it's been going on 20 years that people have pestered me about this and CNN does it every single time. So when are you going to wear yourself out?"
"Is it legitimate? Is it a legitimate question to ask that something went out in your name?" Borger continued.
"And when you get the answer, it's legitimate you sort of take the answers you get. I didn't write them. Didn't read them at the time and I disavow them. That is your answer."
"It's legitimate, it's legitimate. These things are pretty incendiary," Borger pressed.
"Because of people like you," Paul riffed.
But Borger continued to barrage Paul with questions, at which point Paul took off his mic and walked out of the interview
"It seems like Ron Paul got tired of talking about it," CNN's Wolf Blitzer said.
"I did have to ask them. He clearly thinks its irrelevant." Borger explained to Blitzer. "He thinks it's been asked and answered…It's clearly a question he'd rather not be asked."
Watch Paul walk out of Borger's interview below via CNN:

Have a tip we should know? tips@mediaite.com