Ron Paul: Obama's Apology For Quran Burnings Isn't Wrong, But 'It's Pretty Much Irrelevant'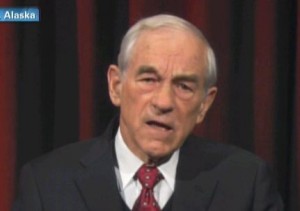 Contrasted with Newt Gingrich's insistent rhetoric on how President Obama should not be apologizing to the Muslim world for the Quran burnings that took place at a U.S. military camp in Afghanistan last month, Ron Paul said on CNN's State of the Union today that it wasn't necessarily the wrong thing to do. However, Paul did say it was irrelevant because an apology will do very little to sway the feelings of the Muslim world, and said that beyond any one apology, a change in U.S. foreign policy might be necessary.
RELATED: Rep. Ron Paul's Impassioned Argument For Defunding War In Afghanistan Over NPR
Paul told Candy Crowley that he doesn't see the point, as so many Republicans have, in riling up over this issue.
"I think the Republicans who are condemning it are a little bit over-the-top, too, because in 08, some of our soldiers in Iraq took the Quran and used it for target practice. You know, just, just to humiliate the Muslims in that country. Ronald Reagan apologized, and what is so terrible about that, it might calm things down."
(Paul obviously misspoke above, he meant that George W. Bush apologized.)
But Paul suggested owning up to that would not be enough, and said he would personally be more apologetic for "invading countries that never did anything to us." He explained that occupation, just like burning the Quran, is one of the reasons why many in the Muslim world might have a deeply-held hatred of the United States.
RELATED: Bill O'Reilly: Rep. Ron Paul's Foreign Policy Is 'Dangerous Stuff If You Have Power'
Paul referred to the words of former Defense Secretary Robert McNamara, who later reflected on his role in the Vietnam war with much remorse, and said that an apology is not enough, a broader change in policy is needed.
Watch the video below, courtesy of CNN:
Have a tip we should know? tips@mediaite.com
Josh Feldman - Senior Editor