Ron Paul: 'Political Correctness' Behind Concerns About My Institute Republishing 9/11 Truther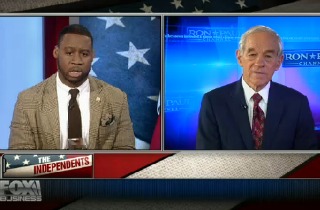 Last week, former Rep. Ron Paul's (R-TX) research arm, the Ron Paul Institute for Peace and Prosperity, republished a blog post from author Paul Craig Roberts entitled "Is the US or the World Coming to an End?"
The post credulously repeated many of the Russian Federation's claims which they say justify a slow-motion invasion of South and East Ukraine, including assertions that American "mercenaries" are assisting Kiev's forces and that "neo-Nazis" have taken control of the government in Ukraine.
The post goes on to note how American actions have reduced its credibility across the globe. But Roberts spends eight paragraphs toward the end of the piece attacking what he calls the government's "theory" regarding the events of September 11, 2001.
"The most serious blow of all is the dawning realization everywhere that Washington's crackpot conspiracy theory of 9/11 is false," Roberts alleges. "Large numbers of independent experts as well as more than one hundred first responders have contradicted every aspect of Washington's absurd conspiracy theory."
As Reason magazine editor and FBN's The Independents co-host Matt Welch, observed, that article was "reprinted with the author's permission."
Appearing on Welch's show Wednesday, Paul was confronted about his organization publishing material from a 9/11 conspiracy theorist. The former congressman said that concern over that post was a form of "political correctness."
RELATED: Ron Paul: Putin Has 'Law on His Side' with Crimean Invasion
"Well, it's just that people should have a right to express their viewpoints," Paul insisted. "If you read 99 percent of the article it was a fantastic article."
Paul said that his organization's decision to republish the piece does not amount to a personal endorsement of Roberts' views. "So, I think that's a little bit overkill with political correctness," Paul insisted. "People know my position, I've stated [it] on national television enough times."
"I think that, to me, the people who overly criticize something like that probably are the ones who have the problem," he added.
Watch the clip below, via FBN:
[h/t Reason]
[photo via screengrab ]
 — — 
>> Follow Noah Rothman (@NoahCRothman) on Twitter
Have a tip we should know? tips@mediaite.com