Ron Paul, Republican Leadership Conference Straw Poll Winner: I'm Not A Fringe Candidate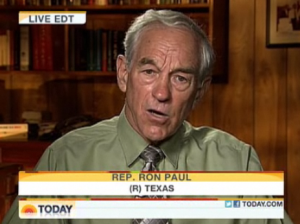 Republican presidential candidate Ron Paul wants you to know he can win the GOP nomination–and beat Barack Obama. On TODAY, Paul told NBC's Matt Lauer he knows he's not at the top of national polls, but his victory in the Republican Leadership Conference straw poll in New Orleans–where he won with 612 votes, beating presumed frontrunner Mitt Romney, who finished if fifth place with 74 votes. "I think people are starting to realize that what I'm talking about is sound," insisting his campaign is gaining momentum. "We're making great progress. The direction is in our way."
Paul also dismissed any suggestion that his age could be a factor. At 75, Paul would be the oldest president to take the oath of office, but he says "it's the ideas that counts, it your health that counts."
Watch it here, from NBC News:
Visit msnbc.com for breaking news, world news, and news about the economy
Ron Paul won the straw poll here at the Republican Leadership Conference overwhelmingly with 612 votes, drawing big boos and some quieter chants of "Ron Paul." Jon Huntsman finished a surprising second with 382 votes, despite being a late scratch because of a "bad cold." Michele Bachmann was third with 191 votes.
Herman Cain was fourth with 104 votes. Mitt Romney, the presumed front runner, who won the straw poll here a year ago, faded to fifth with 74 votes. Tim Pawlenty finished with just 18 votes, fourth from the bottom of the 12-person ballot, just ahead of Gary Johnson (10), Buddy Roemer (9), and Rep. Thaddeus McCotter (2).
Paul's ardent followers packed the ballroom here before, during, and just after his speech, but they were barely seen listening to other speeches. They have organized to win straw polls at many other conservative events as well.
Romney, who did not attend this year or last, was criticized here for not signing onto a legislative pledge from anti-abortion-rights group Susan B. Anthony List. The group released the list of presidential candidates who signed onto the pledge yesterday afternoon. Most signed on; Romney did not.
Have a tip we should know? tips@mediaite.com