Ron Paul Rips 'Political Foolishness' Of Republicans 'Running To Rescue Obama' Amid Surveillance Debate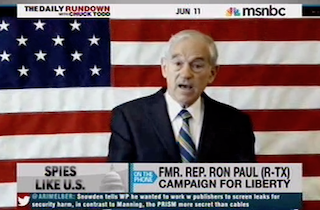 Former Rep. Ron Paul (R-TX) phoned in to Chuck Todd's show on Tuesday morning to discuss the big news story of the moment: NSA surveillance. Paul responded to those deeming leaker Edward Snowden a traitor by questioning the consequences for those who violate the constitution — and by taking a shot at Republicans. Specifically, those who are running to President Obama's "rescue."
"What about the people who are breaking the law, violating the constitution?" Paul asked. "Who's going to punish them? Why not talk about those individuals breaking the law, and which one has the higher order — the constitution and the written law or the authority of the executive branch who controls the enforcement of laws?"
Those taking enormous risks to come out with the truth are heroes, he insisted. Todd asked if Paul would be "uncomfortable but accepting" of the phone tracking program if the government was more transparent about it.
"Being transparent about them breaking the law and violating the Fourth Amendment doesn't make me feel any better," Paul replied bluntly. The program is a blatant violation and simply doesn't make sense he added.
Paul further called out politicians for saying the person telling the truth is one committing treason.
"The foolishness, even the political foolishness of the Republicans running to rescue Obama — the American people are sick and tired of all this snooping and prying and surveillance," he continued. "The Republicans run to the rescue of Obama saying, 'Oh no, we passed those laws, good laws.' … It doesn't make political sense. It doesn't make good moral sense. Doesn't make good constitutional sense."
Take a look, via MSNBC:

Have a tip we should know? tips@mediaite.com