Ron Paul Rules Out Third Party Run: 'Democracy Isn't All That Healthy In This Country'
Ron Paul Rules Out Third Party Run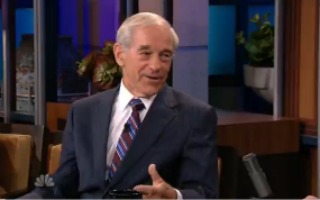 Former Republican presidential hopeful Ron Paul stopped by The Tonight Show Tuesday, where host Jay Leno asked him why he wasn't given a speaking role at last week's Republican National Convention, as well as whether he'll be announcing a third party run for president.
"Well, you know, on Sunday, before the convention started, we had our own rally," Dr. Paul explained. "And we had about 11,000 people show up. And of course — the convention was supposed to start on Monday, but it was postponed because the hurricane didn't come. But, anyway, when we went over there, we had high expectations, thought maybe we could work things out. And they said the tent was too small. We had too many people."
Leno then asked whether Paul would have gotten a speaking role had he endorsed party nominee Mitt Romney. "I imagine I would have, yes," Paul replied, stopping short of saying it's an official prerequisite by noting only that it's "not in writing."
RELATED: Speculation Mounts That Ron Paul Will Launch Third Party Presidential Bid On Tuesday's Tonight Show
"Oh, yeah, okay. Yeah, kind of like NBC," joked Leno. He followed up by asking whether Paul's son, Rand Paul, had been given a speaking role at the convention to "appease your supporters."
"I think so," said Paul. "I think they are aware of the fact that there are a lot of people. We had nearly 2 million votes in the primary. But I think we had 2 or 3 million people who didn't want to particularly vote in the Republican primaries. They're Independents, and they're Democrats."
Paul also had a couple of positive things to say about Clint Eastwood's much-discussed RNC talk, praising the actor and politician for bringing up the subject of war as well as for openly saying that "the President broke his promise." When asked about our ongoing involvement in war, Paul said that "the American people, no matter what they say on the surface –I think, deep down in our hearts, realize we don't need war."
Then, when asked about a possible third party run (as the audience chanted "President Paul!"), Ron Paul gave a blunt assessment at the role money plays in campaigns:
I'll tell you what: the system is very biased. We talk a lot about democracy. We send our troops overseas. We want to spread democracy. But democracy isn't all that healthy in this country because, if you're in a third party, an alternate party, you don't get in the debates. The truth is, if I would have tried in the last several years to do exactly what I have done in a third party, I probably wouldn't have gotten — wouldn't have made it to your show. But there is, you know, something about it that — and if you ever come to a conclusion, heaven forbid — that the two parties aren't all that different, then what is left?
Have a look, via NBC:
Have a tip we should know? [email protected]