Ron Paul: 'The Truth Is I'm Trying To Save The Republican Party From Themselves'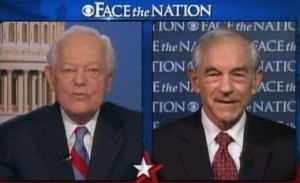 Congressman Ron Paul does not have a strong chance of winning the Republican nomination to go up against Barack Obama in the general election, but that isn't going to stop him from continuing to spread his message as he travels across the country. And that may be the very reason he's still in, because when Bob Schieffer asked him why he's still in the race at this point, Paul said his ultimate goal is to save the Republican party from straying too far from its roots.
RELATED: Ron Paul Tells Piers Morgan It's 'Too Soon To Write People Off'
Schieffer opened the interview by bringing up Vice President Joe Biden's recent comments that the United States will continue to see things through in Afghanistan. He asked Paul if he thought anything we've done in Afghanistan has been worth it after all this time. Paul said that it has not, adding that the Republicans do themselves a disservice trying to "out-militarize the president." He dismissed the idea that compared to Iraq, this was the "good war," and cited recent polls showing a significant number of Americans are just as tired of U.S. involvement in Afghanistan as he is.
The conversation then shifted to 2012 politics, and Schieffer told Paul quite bluntly that "there's no way you're going to get the nomination now." Paul was willing to admit that Mitt Romney being the frontrunner was conventional wisdom, but still expressed hope that there are still plenty of states that haven't voted yet. He cited the turnout numbers he gets at college campuses as an indication that no matter what happens in the race, he will continue to speak out on the issues most important to him.
"There's no way I'm gonna quit speaking out on this. And there's no way I'm gonna give up on the effort to get the Republicans back to their roots… they say, 'Well, why don't you give up? This will help the Republican party.' The truth is, I'm trying to save the Republican party from themselves because they want perpetual wars, they don't care about presidents who assassinate American citizens, they don't care about searching our houses without search warrants, and these are the kind of things that people care about and if the Republicans would take a different position, they may save themselves."
Schieffer noted that Paul's tone sounded like he wouldn't be supporting the Republican nominee if it was someone other than himself this November, but Paul continued to deny that he was considering a third-party run.
RELATED: NBC News Pulls Last Embedded Ron Paul Reporter
Watch the video below, courtesy of CBS:
Have a tip we should know? tips@mediaite.com
Josh Feldman - Senior Editor