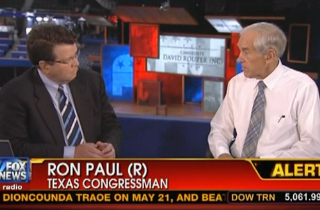 Appearing on Fox News' Your World on Tuesday afternoon, Congressman Ron Paul reiterated to host Neil Cavuto the reasons why he has not officially endorsed the Mitt Romney / Paul Ryan presidential ticket and why he does not view vice presidential candidate Ryan as a serious budget cutter.
Cavuto began the conversation asking the outgoing Texas congressman: "You are backing but not wholeheartedly enthusiastic?"
"I have not endorsed the ticket," Rep. Paul clarified. "I endorsed the principles I have been talking about … I endorse peace, prosperity, individual liberty and the Constitution. I am more intent on that than on the politics.
Asked whether he could leave the Republican National Convention without officially endorsing the Romney ticket, Paul said, "I am not intending to endorse anybody." Cavuto pressed him on whether he has any "dog in the fight" between Romney and Obama, to which the libertarian congressman replied that he has no intention to endorse, and to put him down as "undecided."
Yesterday, VP candidate Ryan told Fox News that he believes Romney has a lot to offer Paul's supporters, seemingly confident that the ticket has not alienated the congressman's libertarian supporters. "Are they overly confident?" Cavuto asked.
"They could be jumping the gun because I am not a block," Paul replied. "If i do something they do not think is consistent [like endorse Romney], I will lose credibility."
Paul reiterated his criticism of Rep. Ryan for not being an actual budget cutter, adding that the VP pick's budget plan "does not cut anything, really," and that he believes the Democrats falsely solidified Ryan's reputation as a "budget slasher" when, in fact, his proposal only cuts proposed increases, but not actual long-term spending.
Asked whether he feels the GOP has mistreated him, Paul told Cavuto that "My supporters think we are treated atrociously," but indicated that he is not angry.
Watch the full interview below, via Fox News:
— —
>> Follow Andrew Kirell (@AndrewKirell) on Twitter
Have a tip we should know? tips@mediaite.com