Ron Paul To Donald Trump: Don't Criticize Me, How Many Elections Have You Won?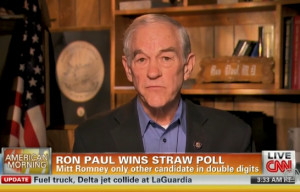 Republican Congressman Ron Paul appeared on CNN this morning to bask in the glory of his CPAC straw poll victory, to share his vision for America, and to respond to Donald Trump's claim last week at CPAC that although he likes Paul, he doesn't think he can win the election for President.
Paul was surprised and flattered by the strong support he received at CPAC and admitted the victory encourages him to consider running for President again. He believed his talk of freedom and his views on foreign policy are what makes him most appealing, saying "look at the failure of our foreign policy today. We're trying to impose our goodness around the world by force – it doesn't work."
Regarding Trump's prediction that Paul is not a viable candidate, Paul argued that he's won eleven times in a very conservative district and responds to Trump with his own verbal smackdown, "I don't know whether he's earned the right – you know – for criticizing someone for not winning an election, when I don't know how many elections he's won so far himself." Although if Trump does run for President, Paul did not go as far as suggesting that he couldn't win.
However, given that Paul proudly states his views have not changed in his entire political career, and given that his freedom message didn't help him perform well in the 2008 presidential election, the real question is whether in four years the country has moved far enough in Paul's direction to now make him a credible contender?
Watch the clip from CNN below:

Have a tip we should know? tips@mediaite.com