Ron Paul To Morning Joe: America's Next Occupation Is In Pakistan And 'I Fear It'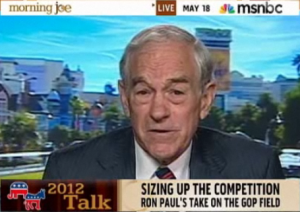 Republican presidential candidate Ron Paul appeared on Morning Joe and raised some eyebrows on a bunch of issues with the panel interviewing him. Paul joined Newt Gingrich's dislike of Congressman Paul Ryan's budget plan, but for the complete opposite reason: "it just wasn't enough for me," Paul said, yet "at least he's going in the right direction." Although when the conversation turned to foreign policy things got even more interesting.
Paul strongly disapproved of President Obama's policies towards Pakistan and warned that he predicts American troops will be sent there soon:
"We keep bombing them, we kill innocent people there . . . I see the whole thing as a mess, and I think that we are going to be in Pakistan. I think that's the next occupation and I fear it. I think it's ridiculous, and I think our foreign policy is such we don't need to be doing this."
Mike Barnicle smartly picked up on a point that Paul was hinting at, and asked Paul directly whether he was suggesting the Bush administration handled Pakistan better than Obama? Paul reminded him that he was no fan of Bush, especially because of the war in Iraq, however, with regards to Pakistan and the elimination of our enemies, Paul in fact might prefer Bush:
"[Bush] was able to at least work with the security and the government of Pakistan and we got a lot of bad guys . . . and the way Saddam Hussein was captured was quite a bit different. And I just think there's more questions now than ever. How many stories have we heard already about the killing of bin Laden. I mean, people are supposed to know what their government is doing and if you ask me exactly what happened, I have no idea because I've heard so many stories."
The panel wondered whether Paul was floating conspiracy theories regarding Bin Laden, and although Paul said "no" he also responded, "inept policy invites people to think about conspiracy theories." One thing is for sure with Paul, he sure doesn't shy away from revealing exactly what he is thinking.
Watch the clip from MSNBC below:

Have a tip we should know? tips@mediaite.com