Ron Paul to RT: U.S. Sanctions Against Russia 'Something That Happens in Wartime'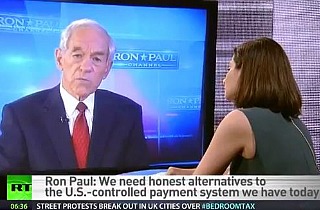 Appearing on the Kremlin-funded news network RT, former Rep. Ron Paul (R-TX) asserted that the sanctions imposed on Russia individuals and institutions following Moscow's invasion and annexation of the Ukrainian peninsula of Crimea were acts of war. He said that sanctions, like any other form of trade blockade, "is a war."
"If two countries get in war, one of the most important things that they do is that they put down blockade," Paul told RT host Sophie Shevardnadze. "So, in that sense, the economic sanctions is doing something that happens in wartime, and that is preventing a government from getting certain things that are needed for the war."
Paul said he is opposed to sanctions against Russia because he believes they are wrong but also because the West, and the United States in particular, is unaccustomed to having sanctions levied against them.
"How would we react if we couldn't import something?" Paul asked. "The American people wouldn't like that very much, and yet we too causally do that with others."
RELATED: Ron Paul: Putin Has 'Law on His Side' with Crimean Invasion
"But, in principle, it's not quite like a shooting war, but it is a war," Paul continued. "I mean it is something that's used in an active war, in the ultimate for blockade – but sanctions is the form of blockade."
Paul has previously said that Russian President Vladimir Putin's decision to invade Crimea was legally justified because Moscow was safeguarding their lease of the Ukrainian territory containing a Soviet-era naval base in the city of Sevastopol.
Watch the clip below via RT:
[h/t WFB]
[Photo via screen grab ]
— —
> >Follow Noah Rothman (@NoahCRothman) on Twitter
Have a tip we should know? tips@mediaite.com