Ron Paul To Wolf Blitzer: There Is 'No Way' I Am Ready To Endorse Mitt Romney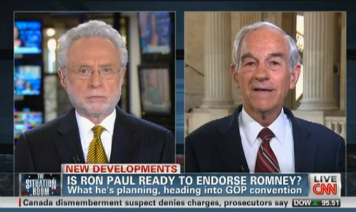 Republican presidential candidate Rep. Ron Paul (R-TX) told CNN's Wolf Blitzer on Tuesday that presumptive GOP nominee Mitt Romney "doesn't have the control of the hearts and minds of the people" and that there is "no way" he is ready to end his candidacy and endorse Romney.
123 delegates committed to Rep. Paul recently announced a lawsuit against the Republican National Committee, accusing them of improperly helping Romney throughout the primary fight and challenging rules requiring many Republican delegates to vote at the convention for the winner of their state's primary or caucus. Rep. Paul refused to condemn the lawsuit, adding that "you have a right to stand up for the rules. I think, for the most part, in these winning caucuses that we've been involved in, we have followed the rules. And the other side has, at times, not followed the rules."
Blitzer then asked Rep. Paul: "I assume you've reconciled yourself with the fact that Romney will be your party's nominee?"
"Well, it looks like he has the delegates, yes," Paul conceded, "but he doesn't have the control of the hearts and minds of the people."
He continued: "A lot of delegates who are pledged to vote for Romney are actually very strong supporters of ours and will be strongly supporting us when we want to put things into the platform that say, 'Hey, we don't need another war. Yes, we do need to audit the Federal Reserve. Yes, we we ought to really cut spending.' So there's going to be a lot more support than the delegate count indicates."
"Your son [Sen. Rand Paul (R-KY)] has endorsed Romney. I take it you're not yet ready yourself to endorse Romney, are you?" Blitzer asked.
"No. Not ready," Rep. Paul replied.
"Not ready?" Blitzer pushed.
"No way."
"What's stopping you?" Blitzer asked, adding that "you obviously appreciate the fact he's going to have 1,144 delegates that will put him over the top."
"What's it going to achieve?" Paul laughed. "I think it's legitimate for us to continue to debate."
Rep. Paul also indicated that he has not contacted the Romney campaign regarding a speaking role at the Republican National Convention. "I'm not expecting a whole lot to happen there," he said.
"If you get a primetime speaking venue at the Republican convention, that would be significant. I assume you agree?" Blitzer added.
"I think so," Paul said. "I think that i would probably take care of the opportunity if i could give my speech."
Check out the clip below, via CNN:
>> Follow Andrew Kirell (@AndrewKirell) on Twitter
Have a tip we should know? tips@mediaite.com