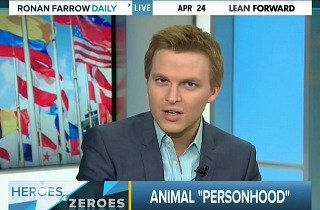 On Thursday, in a segment with naturalist and television host Jeff Corwin, MSNBC host Ronan Farrow took the opportunity to highlight the issue of animal abuse in the United States. He appeared to advocate for an extraordinary remedy in order to address this problem: the extension of legal rights enjoyed by people to animals.
Farrow began simultaneously praising the state of Washington for freeing hundreds of "steroid-addled" chickens from a facility that used them in cock fights, but criticized the state for euthanizing the mistreated birds. "We also have to believe that some of those hundreds could have found homes," Farrow submitted.
The MSNBC host used chicken-dämmerung as a jumping off point to feature the "revolutionary" issue before a court detailed in a recent New York Times story: "should a chimp be able to sue its owner?"
"Animal rights lawyer Stephen Wise of the Nonhuman Rights Project found a former circus chimpanzee named Tommy languishing in a dungeon-like cage right here in New York state," Farrow observed. "So he and his group filed the first-ever U.S. lawsuit demanding limited personhood rights for animals with complex cognitive abilities."
He added, becoming more animated, that new research suggests animals, including chimps and elephants, experience nuanced concepts like time and suffering. "There's a long history of granting rights from ships to corporations, why not animals who live, and breathe, and think?" Farrow observed. "For breaking new ground that could improve the life of animals, I call them today heroes."
The nation's trial lawyers certainly agree with Farrow.
Elsewhere on the network, the legal effort pushed by some legislative-level Republicans, an initiative so unpopular that the Mississippi's conservative electorate rejected it, has reignited the spark of hope in the eyes of MSNBC hosts. Last week, the legally problematic concept of "personhood" for the unborn gave MSNBC host Joy Reid hope that the Democrats could resurrect the "war on women."
Of course, creating the legal basis for labeling early-term abortion or even contraception as a form of murder is so extreme that it is unlikely to find much of an audience beyond extreme pro-life groups and MSNBC hosts desperate for an issue to energize Democratic voters.
While there is an interesting, if equally legally unfeasible, argument behind the extension of legal rights to some advanced animal species, it is also worth pointing out the comedy associated with two of this network's hosts just one week apart decrying "personhood" for people and then advocating "personhood" for animals. If you wrote this scenario up as a caricature of liberalism, your readers would have considered it far-fetched – before today, that is.
[Image via screengrab]
— —
>> Follow Noah Rothman (@NoahCRothman) on Twitter
Have a tip we should know? tips@mediaite.com