Ronan Farrow Denies Alleged Rule Against Asking Him About 'Personal' Matters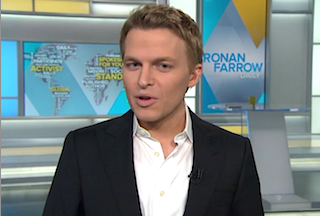 Ronan Farrow, whose new MSNBC show launched Monday to tepid ratings, will receive the Cronkite Award for Excellence in Exploration and Journalism at Reach the World's annual benefit at the Princeton Club tonight. Ahead of the scheduled event, Farrow has been forced to deny claims that he specifically asked reporters in attendance to refrain from asking him any questions about his "personal or family affairs."
New York Post's Page Six published quotes from a form that reporters were allegedly asked to sign if they wanted to attend the event. "The theme of the evening is global education and service," it reads. "All press are required to stay strictly on message. Any press who ask guests or Mr. Farrow about off-message topics will be immediately escorted out of the event."
"We would like you to sign the form or indicate by return e-mail that you understand our goals to stay completely on message given the surrounding circumstances," a press representative for the event said. "We will not tolerate press questions about personal or family affairs related to Mr. Farrow in any circumstance at this event. Farrow is not doing interviews and the rules come from his team direct to you."
However, in a statement to Gawker, Farrow's rep denied he had given the order to restrict the press in any way. "Ronan and his team did not request any restrictions on reporters' questions," the spokesperson said. According to MSNBC, the memo was distributed by a third-party organization without Farrow's knowledge.
RELATED: Ronan Farrow's Debut Gets Major Media Love While Joy Reid Is Ignored
Of course, this story comes after the escalating controversy surrounding revived sexual assault allegations made by Farrow's adopted sister against their father Woody Allen. Ronan Farrow has addressed the situation on Twitter, but has not discussed it during the first few days of his tenure on MSNBC.
[photo via screengrab]
— —
>> Follow Matt Wilstein (@TheMattWilstein) on Twitter
Have a tip we should know? tips@mediaite.com