MSNBC's Ronan Farrow Grills RNC Spox over McConnell Receiving a Rifle at CPAC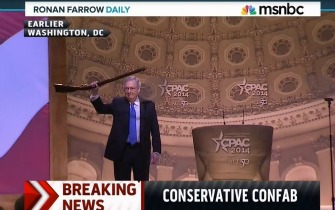 MSNBC host Ronan Farrow seemed taken aback by Sen. Mitch McConnell (R-KY) brandishing a ceremonial flintlock rifle on the stage at the Conservative Political Action Conference on Thursday before he presented it to Sen. Tom Coburn (R-OK). MSNBC reduced the speed of that footage so that the audience could clearly see that McConnell was holding a rifle and invited Republican National Committee spokesman Sean Spicer on the program to explain why that occurred.

"Thing started out with another unexpected bang," Farrow said while introducing the footage. "No, you're eyes aren't deceiving you. That's Senator Mitch McConnell, the Minority Leader of the United States Senate, brandishing a gun on the CPAC stage."
Farrow invited Spicer to respond to McConnell's Democratic opponent who criticized McConnell for not holding the ceremonial rifle appropriately. "One would think when he watched on stage with that prop he was trying to make a statement about the Second Amendment, but then his remarks didn't reflect that at all," Farrow observed. "What statement was he making there?"
"He wasn't making a statement. He wasn't making anything," Spicer laughed. "It was an award. He was presenting an award by the National Rifle Association to Senator Coburn for a lifelong achievement award for service to both the Senate and Second Amendment."
If the RNC was in an enterprising mood, they would cut this mix of confusion and revulsion displayed by MSNBC and Farrow into a web-ad to run in every red state where Democratic Senate incumbents are fighting against the tide public opinion in their effort to seek reelection. This was nothing short of embarrassing.
Watch the clip below, via MSNBC:
Visit NBCNews.com for breaking news, world news, and news about the economy
[Photo via screen grab]
— —
> >Follow Noah Rothman (@NoahCRothman) on Twitter
Have a tip we should know? tips@mediaite.com