Ronan Farrow, Lisa Bloom Link Trayvon Martin to Racial Inequality in School Punishments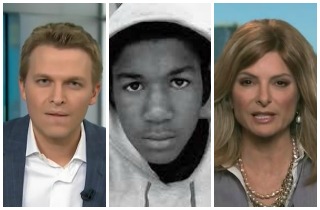 On Monday, MSNBC host Ronan Farrow introduced a study conducted by the Department of Education which found that African-American men as young a preschool age are subject to more and stricter punishments than their white counterparts. Farrow and legal analyst Lisa Bloom railed against this disturbing feature of American society, and said that the late Florida teen Trayvon Martin was a victim of this kind of disparity of punishments along racial lines.

"Shocking, and I really mean this, shocking new report on education is out that finds that black students are suspended and expelled three times more often than white students," Farrow began. "Maybe even more shocking: that trend actually starts as early as pre-school."
The study showed that black students make up 18 percent of the preschool population but also make up 42 percent of preschoolers who have been suspended once. Farrow said that this story is "heart-wrenching on a personal level" because his siblings of color also experienced racism in school.
RELATED: Zimmerman: President Obama Spoke About Trayvon Martin Just to Win Votes
"To me, this is the primary reason why there's still so much racial inequality in America," Bloom said. "Most kids in America today go to segregated schools, and we know that kids in majority black schools get about $733 per pupil less funding than kids who go to majority white schools."
She added that African-American boys are "perceived" to be more violent than white, male school children. "We cannot claim to be an egalitarian country as long as we allow this to continue," Bloom declared.
Bloom said that Martin was suspended three times for offenses she suggested did not merit the punishment he received. "He's a perfect example, unfortunately, very sadly, of this trend," Bloom asserted.
"Trayvon Martin, who has come to represent so much, also representative of this startling trend," Farrow agreed.
Watch the clip below via MSNBC:
[Photo via screen grab ]
— —
> >Follow Noah Rothman (@NoahCRothman) on Twitter
Have a tip we should know? tips@mediaite.com