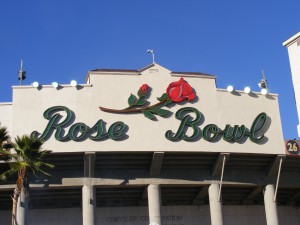 History was made on the cable television front New Year's Day, as not one, but two college football games became the most-watched programs in the history of cable. And we're not talking in the history of ESPN (which has NFL rights) or in the history of sports programming, but all programs.
The Rose Bowl and Sugar Bowl–which served as semifinal games for college football's first-ever playoff–averaged a whopping 28 million viewers. Pretty astounding when compared to last year's January 4th NFL playoff game between the Chiefs and Colts (a thrilling 45-44 comeback win for Indy), which was on "free TV" (NBC) and tallied 27.6 million viewers. Note: A college game on cable beating an NFL playoff game on one of the Big Three networks–even slightly–on the ratings front was once unheard of. The Rose and Sugar even did well online as well, with the WatchESPN app averaging 864,000 unique viewers despite technical difficulties.
Back in 2013, ESPN made a pretty big bet when bidding for rights to the college football playoff, dropping a whopping $5.64 billion for a 12-year contract ($470 million annually). But if this a preview of things to come–and the national championship game between Oregon and Ohio State hasn't even kicked off yet (January 12th, 8:30 PM EST)–the cable sports giant is already having its investment for this year more than paid for. Simply put, Americans–despite having to endure a record 38 bowl games this college postseason–can't get enough of football. College, pro, doesn't matter. Part of it is love for the sport, but gambling, fantasy (on the pro level) and office pools all add to generating interest when there otherwise wouldn't be much.
Add it all up, and the NCAA is $5.64 billion richer, ESPN makes boatloads of money on the deal while promoting other programming throughout its bowl telecasts, and audiences at home get their football for hours on-end every day and night over their lazy Christmas breaks through New Year and beyond. And how's this for a business model? Those producing the compelling content while putting their bodies at risk on every play, you know…the players on the field…don't see a dime of it.
Paying college players has long been debated–and with these historic numbers around the Rose and Sugar Bowls now out–it's a good bet it will debated again on Fox, CNN and MSNBC in a few segments this week leading up to the big game. On cue, one side will argue that athletic scholarships suffice in terms of compensation, which given the cost of a college education these days is a pretty sound argument. According to the College Board, "a 'moderate' college budget for an in-state public college for the 2013–2014 academic year averaged $22,826. A moderate budget at a private college averaged $44,750" ("budget" is defined when factoring in tuition, fees, housing, meals, books, etc.). In other words, sending your kid to a private college now costs about $200,000 over four years.
Meanwhile, the other side will argue that the illusion of the college athlete simply being amateurs no longer exist. And when a college football bowl telecast is on par or even beats an NFL playoff telecast, it's hard to argue against that perspective as well.
But is there enough money to go around to actually pay every athlete of every sport? If so, how much? Good questions. Here's a partial answer to the first just to give you an idea of how big the business of another sport–college basketball–now is. Per U.S. News & World Report and Forbes:
The NCAA basketball tournaments, or "March Madness," have become a huge business. As Forbes' Chris Smith wrote, CBS and Turner Broadcasting make more than $1 billion off the games, "thanks in part to a $700,000 ad rate for a 30-second spot during the Final Four." Athletic conferences receive millions of dollars in payouts from the NCAA when their teams advance deep into the tournament. Ditto for the coaches of the final squads standing. The NCAA, as a whole, makes $6 billion annually.
As for the "how much" part, that's where things get tricky. Should just college football and basketball players get paid, since that's where most of the TV revenue and ticket sales come from? My wife–who earned an athletic scholarship in track from Georgetown–would beg to differ since the sacrifices (practice, training, travel, competition) are equally difficult. To that end, it appears the only fair solution–since athletes barely have time to play a sport, attend classes/study and hold a part-time job to pay for the basics–is to offer up a flat "wage" across the board, albeit a small but substantial one enough to live day-to-day like an average college student.
So would $300.00/week (before taxes) be enough? $400.00? Honestly, not sure. But there certainly is enough dough to go around, and these athletes need to be given something more than an education (especially when considering the graduation rate of college football players, for example, is only 75 percent, according to the NCAA).
Either way, if you're the NCAA, it's got to be one of the greatest business models ever invented: Produce a made-for-TV product that doesn't involving paying the very people providing the thrills, spills and hard labor. It would be like Hollywood studios making movies and not having to pay the actors.
The Rose and Sugar Bowls of 2014 are now the most-watched cable shows in history. The National Championship Game in Dallas a week from Monday will rate even higher.
ESPN wins. The NCAA wins. All while those under the helmets have to figure out what thankless part-time job they need to get after the final whistle blows.
[image via Wikipedia]
— —
>>Follow Joe Concha on Twitter @JoeConchaTV
Have a tip we should know? tips@mediaite.com