Rosie and Nicolle Wallace Clash over ISIS: 'I've Heard That on Fox News a Lot'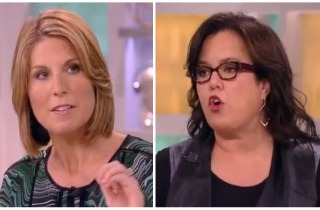 Rosie O'Donnell and former Republican strategist Nicolle Wallace of ABC's The View faced off Tuesday on the U.S.'s fight against the Islamic terrorist group ISIS.
The conversation initially centered on Leon Panetta's recent criticism of President Barack Obama, who Panetta served as secretary of defense from 2011-2013. Panetta has characterized Obama's response to ISIS threats as weak and mismanaged.
O'Donnell argued that ISIS formed in response to the Bush administration's invasion of Iraq (where elements of ISIS exist) and not because of anything Obama has done.
"One thing about ISIS is no American president of any party does anything to make terrorists hate us," Wallace said. "Because what they hate about us is our values, our way of life; they hate our freedom."
"I've heard that on Fox News a lot," replied O'Donnell, "but I don't believe that."
Wallace asked if O'Donnell believed the U.S. intentionally provokes terrorists abroad.
"I think we have to take responsibility for our own actions," O'Donnell said, pivoting to 9/11. "If Saudi hijackers did what they did on 9/11, you don't invade Iraq and kill innocent people in the process."
"What do you think we should have done instead?" said Wallace.
After a commercial break, the conversation resumed with O'Donnell arguing that when the U.S. "drop[s] a bomb somewhere and you kill a baby, it's over for me."
Watch the first segment via ABC:
And the second segment:
[Photo via ABC/screen grab]
— —
>> Follow Eddie Scarry (@eScarry) on Twitter
Have a tip we should know? tips@mediaite.com