Rosie O'Donnell On Donald Trump: He's The 'Perfect Choice' To Moderate A GOP Debate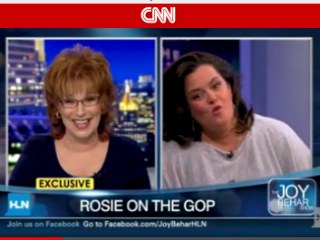 New OWN host Rosie O'Donnell appeared on Joy Behar's HLN show, in part to talk a little smack about the current crop of GOP presidential hopefuls.
After describing Trump as being "like Lord Voldemort" and performing an impression of the reality TV star for Behar, O'Donnell shared that he was the "perfect" person to moderate a GOP debate. "I don't even believe it's real anymore!"
O'Donnell's comments, however, seem to reflect that she thinks the GOP, as a party, somehow picked Trump to moderate Newsmax's debate, even though many establishment Republicans — including Karl Rove — have been quite vocal about their disdain for and exasperation with this particular choice of moderator.
RELATED: Donald Trump Hits Back: Charles Krauthammer, George Will And Karl Rove Are 'Political Hacks'
Now, you may recall that O'Donnell and Trump haven't exactly shared the rosiest of relationships over the years. In December of 2006, O'Donnell accused the mogul of using the scandal surrounding Miss USA winner (and alleged drug user / Miss-Teen-USA-kisser) Tara Conner to try and generate publicity for his Miss USA franchise, adding that it was rather ironic for him to take on the role of moral arbiter given his history of extra-marital affairs. Trump retaliated by going on a veritable media blitz against O'Donnell, threatening to sue her and even to take away her then-partner. He also made this awkward between O'Donnell and her The View co-host Barbara Walters by alleging that Walters had regretted hiring O'Donnell for the show.
RELATED: Bill O'Reilly And Bernie Goldberg Analyze The Appeal Of Rosie O'Donnell
Later, O'Donnell also started in on former candidate Herman Cain for his habit of quoting "pokey man."
Have a look at the segment, via HLN:
Have a tip we should know? [email protected]