Rosie O'Donnell Wonders if There's 'Financial Agenda' in U.S. Fighting ISIS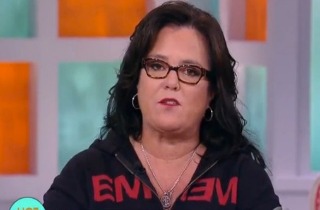 On ABC's The View Wednesday, co-host Rosie O'Donnell choked up over the U.S. military airstrikes against ISIS in Syria that began earlier in the week.
"It's scary to me to think that when I had my last baby 12 years ago we were just getting into war and she was 1 and now I have another 1-year-old and we've just bombed another country," O'Donnell said. "And even though it doesn't say so on the news, we went to war yesterday in America against another country in the Mid-East. And to me, no matter what, that's wrong. Because you don't fight violence with violence."
O'Donnell went on later in the segment to suggest that the U.S.'s fight against ISIS, an Islamic terrorist network with elements in Syria and Iraq, is motivated by oil in the region.
"I can't get out of my head the fact that Syria has a lot of oil," she said. "A lot of oil. Not a lot of oil in Rwanda or the Congo. Atrocities there all the time. I don't know why."
Co-host Whoopi Goldberg chimed in to say the U.S.'s involvement in Syria is motivated by the beheading of two American journalists by ISIS.
"I don't think anybody goes to war gleefully," she said.
O'Donnell replied, "I don't think it's gleefully but I do think there's a financial agenda attached to it."
"No way," said Nicolle Wallace, the show's lone conservative voice. "It's just too horrible."
Watch below, via ABC:
[Photo via ABC/screen grab]
— —
>> Follow Eddie Scarry (@eScarry) on Twitter
Have a tip we should know? tips@mediaite.com