Rosie O'Donnell Won't See The Interview After Terror Threats: 'It's Not Worth It'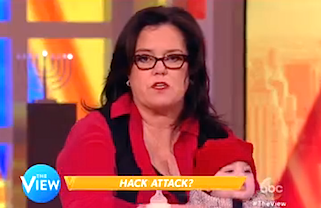 With more and more major movie theater chains pulling The Interview from theaters following vague threats about a 9/11-style attack from the perpetrators of the cyber-attack on Sony Pictures, it might end up that no one gets to see the film on Christmas Day when it is scheduled to be released. But The View's Rosie O'Donnell wanted to make it clear that she will not be going to see the film in theaters even if she has the chance.
Whoopi Goldberg kicked off the discussion by suggesting that many Americans were actually on the side of the Sony hackers, who appear to be connected to North Korea, until they made the terror threats. "See, now you made people want to see the movie," she said. "Who knows if it's good? People and Americans in particular, we don't like — I don't think anybody likes being told, 'you can't go see that movie.'"
"What we do is we don't let threats like this from bullies and thugs change our way of life," Nicolle Wallace argued. "So, I hope that anyone who wants to see the movie, I hope they go see it. The Department of Homeland Security in Washington is investigating the threat to determine whether or not it's credible. They have a lot of experience with this, sadly, but I think we have a good history in this country of not being bullied by thugs, and that's what they are in North Korea, that's what they are."
O'Donnell then asked for a show of hands in The View audience of who wouldn't go see the film after the terror threats were made. "Because I wouldn't go. Truthfully I wouldn't," she said. "I just feel like it's not worth it to me to see a movie that's supposedly not even that funny."
"I think the point is if you want to see it, don't let some goon in North Korea change your plans," Wallace replied.
The day before, Wallace's fellow conservative Rep. Peter King (R-NY) made a similar point on CNN, saying he's a not a "big movie guy" but might just have to go see The Interview now as an "act of defiance."
Watch video below, via ABC:
[h/t TheWrap]
[Photo via screengrab]
— —
>> Follow Matt Wilstein (@TheMattWilstein) on Twitter
Have a tip we should know? tips@mediaite.com