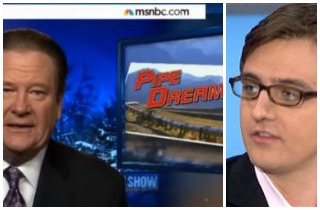 As a reliable indicator for the position of organized labor, MSNBC host Ed Schultz coming out in support of constructing the Keystone XL Pipeline is noteworthy. His advocacy reflects the thinking of an increasingly marginalized segment of the Democratic coalition -– one often at odds with the ascendant environmentalist left. Indeed, MSNBC's programming lineup –- perhaps a microcosm of the Democratic coalition -– is heavily represented by those more concerned with environmental impact of infrastructure development projects than the jobs they would create.

But while Schultz's position may put him at odds with MSNBC primetime hosts like Chris Hayes, Rachel Maddow, and Lawrence O'Donnell, he increasingly appears to reflect the thinking of Democratic members of Congress and even those in the White House.
"Based on safety I think the president should give this project the stamp of approval," Schultz said on Tuesday. "Newsflash: We're not getting out of the oil business in America. It runs our economy. Do we have climate change? Yes, we do. But the construction of this pipeline does not mean we are going to consume more as a country."
Schultz's position on Keystone is increasingly the position of embattled Senate Democrats seeking to mitigate the risks associated with facing the voters in November. Democratic Sens. Mark Pryor (D-AR), Mark Begich (D-AK), Kay Hagan (D-NC), Mark Warner (D-VA, and Mary Landrieu (D-LA) have all voted in favor of constructing the pipeline. Even Democrats from reliably blue states not facing reelection in 2014, like Sen. Chris Coons (D-DE), voted in favor of the project.
The White House may be able to resist the pressure from increasingly vulnerable Democrats in the Senate, even after a State Department study revealed that the environmental impact of constructing the pipeline would be minimal. But officials close to President Barack Obama are signaling that liberal broadcasters like Chris Hayes' position on other environmental issues is not their own.
RELATED: Stossel, O'Reilly Laugh at Politically 'Clueless' Hollywood: 'The Liberals Follow the Celebrities'
On Wednesday, former U.S. Secretary of Interior Ken Salazar took down another article of faith among environmentalists. Salazar asserted that he believes hydraulic fracturing, or "fracking," is perfectly safe and that the energy industry should be doing more to convince the public that the technology does not pose a threat.
"From my opinion and from what I've seen," Salazar said before the North American Prospect Expo in Houston, "I believe hydraulic fracking is, in fact, safe."
"We know that, from everything we've seen, there's not a single case where hydraulic fracking has created an environmental problem for anyone," the former official continued. "We need to make sure that story is told."
It has been a rough past couple of weeks for environmentalists. However, while some Democratic broadcasters like Schultz appear to have staked out a position which is not representative of most of his network, he seems to be on the right side of the Democratic Party.
Watch below, via MSNBC:
[Photo via screen grab]
— —
> >Follow Noah Rothman (@NoahCRothman) on Twitter
Have a tip we should know? tips@mediaite.com