Rove Defends 'Brain Damage' Comments: Will Be 2016 Issue 'Whether She Likes It or Not'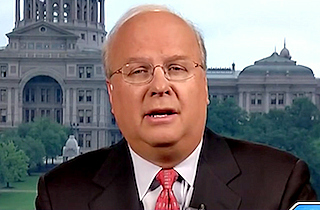 Former George W Bush strategist Karl Rove appeared on Fox News' America's Newsroom to discuss his comment he made at press conference about Hillary Clinton's health following a 2012 fall, arguing that he never used the phrase "brain damage," but that Clinton's health will inevitably weigh into the 2016 presidential campaign should she decide to run, and that it may even be a factor in whether she decides to run.

"I didn't say she had brain damage," Rove said. "She had a serious health episode…My point was, is that Hillary Clinton wants to run for president, but she would not be human if this didn't enter in as a consideration."
"My other point is this will be an issue in the 2016 race whether she likes it or not," Rove continued. "Every presidential candidate is asked for all of their health records by the New York Times. They turn them over to a battery of doctors and they examine them in detail. Everybody says she will run and she probably is. But I would bet that it's a more complicated calculation than we might think. She'll be sixty-nine by the time the 2016 elections. She'll be seventy-seven if she serves two terms. This ends up being an issue."
RELATED: CNBC Anchor Loses it over GOP: 'I Don't Know Who the Republican Party Is Anymore'
"We don't know what the doctors said about what we should be concerned about," Rove said. "She's hidden a lot."
Fox's Bill Hemmer pressed Rove on his original comments, in which he claimed she had been in the hospital for thirty days. Hemmer pointed out that she had only been in the hospital for three days, causing Rove to amend his statement to "this was a thirty day period when she was fighting something," a period he described in some detail.
"So she spent over a month fighting this whatever it is, combination of virus, dehydration and concussion and so forth, and they're not particularly forthcoming," Rove said. "They'd be better off saying at the time that it happened, here's everything. Here's her doctor. Go exhaust yourself…They're going to have to do that in 2016."
Watch the clip below, via Fox News:
[Image via screengrab]
——
>> Follow Evan McMurry (@evanmcmurry) on Twitter
Have a tip we should know? [email protected]