Rubio Agrees With Jeb Bush: GOP 'Needs To Do A Better Job Of Being The Pro-Legal Immigration Party'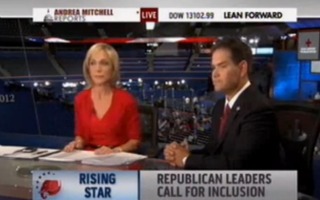 Sen. Marco Rubio (R-FL) appeared on MNBC with Andrea Mitchell on Wednesday where he was asked if he agreed with former Florida Gov. Jeb Bush who has been critical of the Republican party's stance on illegal immigration and how it appeals to Hispanic Americans. Rubio said he did agree with Bush and said that the party needs to be a proponent of safe and fair legal immigration.

Mitchell asked Rubio about the RNC's intentional showcasing of ethnic and gender diversity within the party, noting that this strategy reveals the GOP's electoral problems with minority and women voters.
Mitchell played a clip of Gov. Bush who said that the Republican party must focus on attracting "a much broader audience" into the fold in order to remain a viable governing party.
"Mitt Romney needs to do much, much better among Hispanic Americans and, in fact, reach 38 percent of Hispanic Americans," said Mitchell. "His record on that, especially going back to the primaries, his record on immigration is very restrictive."
"The diversity is not manufactured," Rubio fired back. He listed Hispanic Republican politicians holding state-wide office all over the country.
However, Rubio went on to agree with Bush and said that the GOP needs to focus on being more inclusive.
"Gov. Bush is right – the party needs to do a better job of being the pro-legal immigration party," said Rubio. He said that the problem of a broken legal immigration system exacerbates the issue of illegal immigration.
Mitchell asked Rubio about Romney's standing among Hispanics and wondered if it was due to a position he took in the primaries advocating for "self-deportation." Mitchell cited an NBC poll which showed nearly two thirds of Hispanics supporting President Barack Obama.
Rubio said that this phenomenon is partially historic – many immigrating Hispanics register with the party they affiliate with regionally. "Apart from that, we do need to do a better job," said Rubio.
"Every time we talk about immigration, it cannot be in the context of illegal immigration," he continued. "How about recognizing that immigration is good for America? That a legal immigration system that works is a good thing for America."
He concluded saying that immigrants have a personal view of immigration, illegal or otherwise, even if they are U.S. citizens.
Watch the clip below via MSNBC:
> >Follow Noah Rothman (@Noah_C_Rothman) on Twitter
Have a tip we should know? tips@mediaite.com