Rubio: Obama's Anti-Gun Actions 'Stuff They've Always Wanted To Do,' Have Nothing To Do With Newtown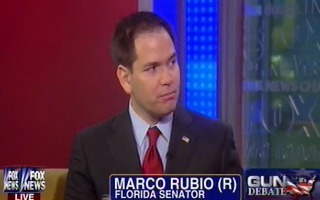 Sen. Marco Rubio (R-FL) joined the hosts of Fox & Friends on Thursday where he expressed his exasperation at the White House's efforts to curb gun violence. He said that he thinks the executive actions President Barack Obama signed yesterday have nothing to do with what happened in Newtown. In fact, they were anti-gun actions that "they've always wanted to do," and the administration is merely exploiting the post-Newtown political atmosphere in order to get stricter gun laws on the books.

RELATED: Here Are The 23 Executive Actions Pres. Obama Just Signed To Curb Gun Violence
"By the president's own admission, the things that they are putting forward would have done nothing to prevent what happened, for example, in Connecticut," Rubio said of the 23 executive actions Obama signed on Wednesday. "This is not about guns, this is about violence. And what we really should be focused on is what is creating this violence in our culture."
"Movies," Steve Doocy suggested.
"There's a lot of different things," Rubio replied without getting specific.
Gretchen Carlson noted that there is an insufficient focus, in her opinion, on the how mental illness contributes to episodes of horrific gun violence.
"As policy makers, we need to take a very careful look at all of these factors, and figure out what we can do in the law to change it," Rubio agreed. "Also, a lot of these things you can't do anything about in the law – it's a cultural issue."
Florida's junior senator went on to say that all of the executive actions signed by President Obama yesterday had nothing to do with and would not have prevented the Newtown massacre.
"The impetus for all of this was the shooting in Connecticut, right? That's what led to this. And yet nothing he's proposing would have prevented Connecticut," Rubio added. "This is stuff they've always wanted to do, and now this has created the political climate to pursue it."
He concluded by saying that, while he believes the White House is not as committed to the Second Amendment as he is, he does not think the White House will seek a legal repeal of the right to bear arms.
Watch this segment below via Fox News Channel:
> >Follow Noah Rothman (@Noah_C_Rothman) on Twitter
Have a tip we should know? tips@mediaite.com