Rubio: Obama's Immigration Directive An 'Election Year Stunt' That 'Poisons The Well'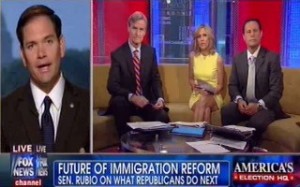 Florida Sen. Marco Rubio appeared on Fox & Friends on Monday to promote his new book. There, Rubio was asked for his impressions as to whether President Barack Obama enacted portions of the DREAM Act through executive directive as a political maneuver directed at him. Rubio said that Obama's actions "poisons the well" and he announced his directive, not to help immigrants, but as an "election year stunt."

RELATED: Sen. Rubio Scolds Univisión Anchor Over Alleged Blackmail: 'You Persecuted My Family'
Co-host Brian Kilmeade asked Rubio whether he believed that President Barack Obama was attempting to head off Rubio's oft-discussed Republican version of the DREAM Act by announcing that a presidential directive will enforce many DREAM Act provisions extra-legislatively.
"The minute I began to discuss this, the first thing they did was attack it," said Rubio of the response by Democrats in Congress. "People on the left accused me of being in favor of apartheid—of a three fifths compromise. A second class citizen."
"The New York Times, which is now celebrating what the President did, described what I was talking about – which is similar – as a DREAM Act without a dream," Rubio continued. "Now, of course, he did it so it's a fantastic idea according to them."
The problem is that with so many issues confronting this country, a lot of my colleagues would say to me, 'why do we do this now?' 'Why can't this wait' And, I would argue, well, because these young kids want to start school in September. Now they're going to say, 'see?' There is no urgency, it's being taken care of.'

Plus, it poisons the well by injecting election year politics into this issue – which should be a non-political issue. It makes it harder to kind of find that balanced, bipartisan approach to this solution. He's – I mean, he's doing this as an election year stunt as much as anything else and people see through it.
Rubio said that the Republican approach to immigration reform was "still being worked on" and that they would like to remind people that America is "very generous" – letting one million immigrants into the country legally each year.
"I don't think we have to make any apologies for our generosity on legal immigration," said Rubio. "We have to recognize the human element of it, but as policy makers we also have an obligation to this country."
The Fox hosts played a clip of Mitt Romney on Tuesday addressing reports that claimed Rubio was not being vetted as a potential vice presidential candidate. Romney told reporters that Rubio was being "thoroughly vetted" along with other candidates.
Rubio said that "it's part of the process" and "I don't discuss the process."
Watch the segment below via Fox News Channel:
> >Follow Noah Rothman (@Noah_C_Rothman) on Twitter
Have a tip we should know? tips@mediaite.com