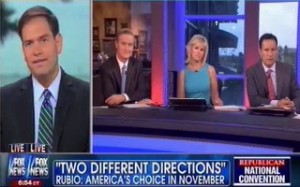 Florida Republican Sen. Marco Rubio appeared on Fox & Friends on Monday where he was asked to open up about his role at this week's Republican nominating convention and also about the current state of the presidential race. Rubio said that this campaign is as "ugly and nasty" as any he has witnessed.

RELATED: Marco Rubio On Obama's Florida Speech: 'Sounds Like Speech By Left Wing 3rd World Leader'
"How's it looking for your guy right now," asked Steve Doocy, citing a Washington Post/ABC News poll released on Monday that showed Mitt Romney leading Barack Obama with 47 to 46 percent support. "How do you think things are going?"
"I think things are going to get better," said Rubio. He said that the next two weeks of conventions will sharply frame the election and the issues.
"One of the key things you have to do is not only use your popularity with the tea party but also let the Hispanic community know Republicans aren't all that bad," said Brian Kilmeade. "So far, it's overwhelmingly for President Obama – 68 to 23 percent. How do you close that gap in 65 days?"
"I don't know about all those polls that are out there," said Rubio. He said that Hispanics are not immune to the sluggish economic recovery and they too have not yet tuned into the race fully.
Finally, Doocy brought up the negative ads emanating from Obama's campaign and said that he had been approached by some people in the airport who told him they do not think the President is especially likable anymore.
Rubio replied that he thought this was one of the most negative election cycles he had been involved with:
Barack Obama 2.0 is not the same person who was elected four years ago. You know, four years ago, I know people who had never voted for a Democrat who voted for him because they loved his story and they felt, you know what, we may not agree with him on everything but he's going to elevate American politics. Boy, those days are long gone. This is as ugly and as nasty a political campaign as I have seen in the last six cycles.
Watch the segment below via Fox News Channel:
> >Follow Noah Rothman (@Noah_C_Rothman) on Twitter
Have a tip we should know? [email protected]