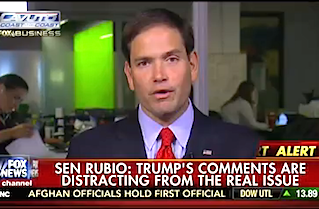 Four days after he first put out a statement calling Donald Trump's comments about Mexicans "offensive" and "divisive," Sen. Marco Rubio (R-FL) weighed in once more during an interview with Fox News' Neil Cavuto. This time, he called out Trump for "distracting" the country from deal with the real issues regarding illegal immigration.
"The problem is border security is a very legitimate issue, illegal immigration is a very serious issue," Rubio said on Tuesday in response to a question about Trump, who recently called him "very weak" on immigration. "What's happened now is that he has made some other comments that are less responsible. And those comments are now what everyone is focused on." In essence, he said Trump's comments "let off the hook all of the people that don't want a debate about illegal immigration."
According to Rubio, Trump's comments "distract from the very serious debate on hand and that is this: we have a broken legal immigration system and an illegal immigration problem that isn't just composed by the way of a porous border with Mexico."
"We should be focused on that and not, through outrageous comments, let off the hook those people that don't want to have that debate," the candidate continued. "All they do is focus on what Trump said and distract from the real issue, which is the fact that we have legal immigration laws that are not being enforced."
As for Trump's sudden rise in the polls, Rubio shrugged that off, reminding viewers that he led some polls close to his announcement as well.
Watch video below, via Fox News:
[Photo via screengrab]
— —
>> Follow Matt Wilstein (@TheMattWilstein) on Twitter
Have a tip we should know? [email protected]