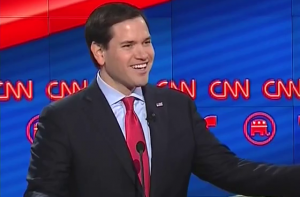 Republican presidential candidates Marco Rubio and Donald Trump got into a fierce debate about healthcare during Thursday's CNN debate, which was capped off with a crowd-pleasing burn from Rubio.
As Rubio and Trump tussled over whether or not Trump supported the Affordable Care Act's individual mandate, Trump offered part of his own healthcare plan. "We should have gotten rid of the lines around each state so we could have real competition," Trump said.
But despite how much Rubio pressed him, that was the only part of his healthcare plan Trump was willing to offer. "What is your plan?" Rubio asked. "I understand the 'line around the state,' whatever that means. This is not a game where you draw maps… what is your plan?"
"The biggest problem he's got is he really doesn't know about the lines," Trump told the audience. "The reason we have no competition is because we have lines around the state."
"So your only thing is to get rid of the line around the states?" Rubio asked. "What else is part of your healthcare plan?"
Trump responded by repeatedly returning to his rhetoric about competition and the line around the states, which Rubio quickly used as an opening. "Now he's repeating himself!" Rubio said while grinning, to loud applause.
Rubio's joke was obviously a reference to the criticism he received after repeating himself several times during an earlier debate. "I don't repeat myself. I don't repeat myself," Trump said.
"You repeat yourself everyday," Rubio responded.
"I watched him repeat himself five times four weeks ago," Trump shot back.
"I saw you repeat yourself five times five seconds ago!" Rubio countered, to more applause.
Watch above, via CNN.
[Image via screengrab]
——
>>Follow Alex Griswold (@HashtagGriswold) on Twitter
Have a tip we should know? tips@mediaite.com