Rudy Giuliani Endorses Romney: Under GOP President 'We'll Grow Unlike Anything We've Actually Ever Predicted'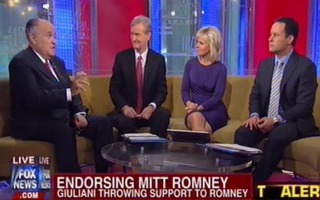 Former New York City Mayor and Republican presidential candidate Rudy Giuliani appeared on Fox & Friends Monday to endorse Republican presidential candidate Mitt Romney and suggest that he is a competent candidate who can defeat President Obama in November.

"He's [Mitt Romney] got the resume and the background for the job," said Giuliani. "This is going to be an election about the economy; and if I look at all the Democratic field the Republican filed, who better than Mitt Romney to carry our banner and to point out that this has been a failed economic program and that sensible conservative economic principles – this country will have a boom. We'll grow unlike anything we've actually ever predicted."
RELATED: Rudy Giuliani: President Obama Has Been A 'Weakling' In Dealing With Iran
Giuliani was asked why he was coming off the fence now as opposed to earlier in the primary season. The former mayor said that he met with Romney and was impressed. "I think he has an understanding of the economy that's far deeper than the president, that's far deeper than most people."
Giuliani stressed that he spends most of his time with the candidates discussing their views on America's foreign relations – an issue that has largely been a secondary concern for candidates and voter alike in this presidential cycle. "I want to see someone that can stand up for America," said Giuliani
"I want somebody that can stand up to Iran and not write letters to the Ayatollah like Obama does," Giuliani continued. "I think Obama has us down a very dangerous path with Iran with this pathetic desire to want to negotiate with them."
Giuliani said that he believes, while a tough primary fight can leave lasting hard feelings, "Newt's [Gingrich] going to have to get over this too and Rick [Santorum]." He said that he and Sen. John McCain (R-AZ) had no hard feelings because they were friendly before and after the primary.
Have a look, via Fox News:
Have a tip we should know? [email protected]