Rudy Giuliani to Replace Both Kellyanne Conway and Reince Priebus on Sunday Shows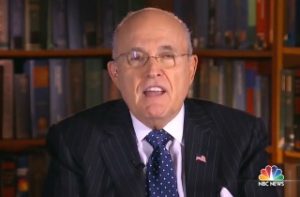 In the midst of the biggest crisis his campaign has dealt with so far, it appears that Donald Trump is leaning on his most trusted confidants to deliver his campaign's message ahead of Sunday's big debate.
First, it was announced that Republican National Committee Chairman Reince Priebus was no longer appearing on CBS's Face the Nation Sunday morning. In his place, the Trump campaign tapped former New York City Mayor and current senior adviser Rudy Giuliani.
According to the Boston Globe's Matt Viser, Trump's team wanted a campaign person to show up on the program.
Reince will not Face the Nation tomorrow. CBS says Trump campaign "wanted a campaign person" to appear instead. So Rudy Giuliani it will be.

— Matt Viser (@mviser) October 8, 2016
But this wasn't to be the only replacement duty for Rudy. We also learned that Trump campaign manager Kellyanne Conway was no longer set to appear on Fox News Sunday.
NEW: Rudy Giuliani-Trump Advisor replaces Kellyanne Conway on Fox News Sunday.

— Pat Ward (@WardDPatrick) October 8, 2016
The New Yorker's Ryan Lizza, who had just written up a profile piece on Conway, actually checked in with the veteran pollster to see if she had resigned.
Kellyanne Conway tells me she is NOT resigning. "That is silly," she texts. (There was speculation after she canceled tv appearance on Fox.)

— Ryan Lizza (@RyanLizza) October 9, 2016
Meanwhile, the list of Republicans distancing themselves from Trump in the wake of his "grab 'em by the pussy" comments continues to grow and grow.
[image via screengrab]
–
Follow Justin Baragona on Twitter: @justinbaragona
Have a tip we should know? tips@mediaite.com