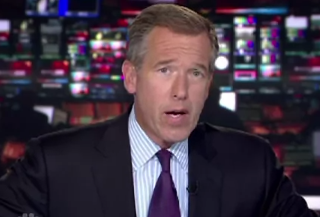 According to Page Six, the future of Brian Williams hangs on a morality clause in his contract.
Williams, who was recently placed on a six-month unpaid leave of absence, might be fired by NBC brass for the cascade of revelations about his habit of making stuff up about his adventures in journalism. It was an option network executives were evaluating, soon after the first story broke refuting his claims about being hit by an RPG in Iraq. Now that more examples are piling up, however, executives are supposedly revisiting the clause.
Page Six identified what could be grounds for his eventual firing:
'"If artist commits any act or becomes involved in any situation, or occurrence, which brings artist into public disrepute, contempt, scandal or ridicule, or which justifiably shocks, insults or offends a significant portion of the community, or if publicity is given to any such conduct . . . company shall have the right to terminate."'
Mediaite has confirmed that this clause is in current NBC contracts and that all on-air talent have a "public morals" clause. So it's almost certain that Williams, the most public face of NBC News, would have one in case he did something scandalous like crash a car while high on cocaine, yelling ethnic slurs during his arrest (no no he didn't do that). As such, it remains up to the network's executives to determine whether Williams's tall tales breached the morality clause.
[via Page Six]
[Image via screenshot/NBC]
— —
>> Follow Tina Nguyen (@Tina_Nguyen) on Twitter
Have a tip we should know? tips@mediaite.com