Rumsfeld Blasts Obama's 'Red Line' on Fox: He Will 'Blame Everybody and Anybody' But Himself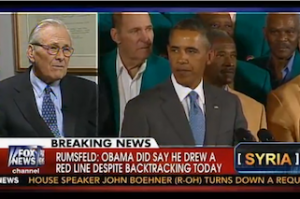 Fox News' Greta Van Susteren hosted an extended interview with Donald Rumsfeld Wednesday night, during which the former Defense Secretary expressed his opposition to the proposed Syria intervention and accused President Obama of trying to "blame everybody or anybody" for the situation in which he finds himself.
When Van Susteren brought up Obama's statement that the international community, not he alone, drew a "red line" on chemical weapons, Rumsfeld said, "You're kidding, I didn't see that." When he recovered from his shock, Rumsefeld said, "This president has tried to blame everybody or anybody, for everything. And leadership requires that you stand up, take a position, provide clarity, and take responsibility. I can't imagine him saying that he didn't draw the red line. He did draw a red line. We have ears!"
Assuming Obama moves forward with action, with or without Congress, Van Susteren asked, "Is there any way that the United States can sort of regain stature, credibility, do anything at this point? Because it almost seems like we're a little boxed in because our president has said we're going to do this."
"There's no question that the leadership or the lack of leadership, to be more precise, has driven our country into a cul-de-sac and that's not a good place to be," Rumsfeld responded. He said the only way for the country to come out of it would be for Obama to make a more concrete decision on Syria.
"If he's unwilling to do anything that is going to change the regime," Rumsfeld said, "I think he's probably better off doing nothing and accepting the burden that falls on us from all of his prior statements. If he decides he wants to change the regime because he thinks the killing of 100,000 people and the use of chemical weapons is something that is damaging and harmful to our country and to the world, I think the American people would follow."
Watch video below, via Fox News:
[photo via screengrab]
— —
>> Follow Matt Wilstein (@TheMattWilstein) on Twitter
Have a tip we should know? [email protected]